Is plane debris from Flight MH370?
Authorities are offering mixed messages on whether a piece of debris found last week belonged to Malaysia Airlines Flight 370, creating frustration among the victims' families.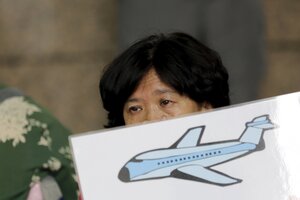 Jason Lee/Reuters
While Malaysia has announced with certainty that the debris found on Reunion Island belongs to Flight MH370, French, Australian and US authorities are stopping short of full confirmation.
After initial examination in France, Malaysian Prime Minister Najib Razak said Thursday that "an international team of experts has conclusively confirmed that the aircraft debris found on Reunion Island is indeed MH370," The Associated Press reported.
But at a news conference in Paris, Deputy Prosecutor Serge Mackowiak declined to confirm that the debris belonged to Flight 370. "The very strong conjectures are to be confirmed by complementary analysis that will begin tomorrow morning," Mackowiak said. "The experts are conducting their work as fast as they can in order to give complete and reliable information as quickly as possible."
Meanwhile Australia, which leads the underwater search for the plane, stopped short of full confirmation, saying that "based on high probability, it is MH370."
And a US official familiar with the investigation said the flaperon clearly is from a Boeing 777. He added that with no other 777s or flaperons known to be missing, saying that the debris comes from Flight 370 makes sense, but the official said the investigators are trying "to be precise."
Flight MH370 disappeared on March 8, 2014, while traveling from Kuala Lumpur to Beijing with 239 passengers on board.
The plane debris was found on July 30 on Reunion Island, thousands of miles west of the area being searched for wreckage from the flight.
Mixed messages from the authorities erupted a new wave of frustration and confusion among the flight MH370 families.
"Why the hell do you have one confirm and one not?" said Sara Weeks, the sister of New Zealander Paul Weeks, who was on board. "Why not wait and get everybody on the same page so the families don't need to go through this turmoil?"
On Thursday, about a dozen Chinese relatives also held a demonstration outside Malaysia Airlines' offices in Beijing.
"France is being cautious about it, but Malaysia is desperate to put an end to this case and run away from all responsibilities," said Dai Shuqin, the sister of one of the passengers, who was among the people holding a demonstration in Beijing.
With France starting its "complementary analysis" on the debris tomorrow, it is not clear when the final results will be announced.
The French agency that usually handles such probes, known as the BEA, can take months if not years to lay out exhaustive conclusions.