Pakistan's Sharif capitalizes on lawyers' march
The opposition lawyer has championed the popular protest that began Thursday. Some see a rule-of-law hero; others cite political expedience.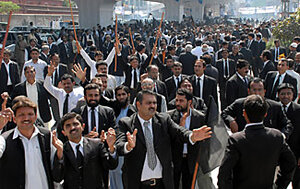 Khalid Tanveer/AP
Nawaz Sharif has become the man of the hour in Pakistan, poised to add tens of thousands of followers to a nationwide protest against the government. The opposition leader's transformation from disciple of a military dictator to champion for the rule of law highlights how strong popular demand for democratic reform has grown here.
Lawyers and party workers launched a series of "long marches" Thursday from the corners of Pakistan to the central capital of Islamabad. The ruling party under President Asif Ali Zardari has angered much of the country by failing to fulfill a promise to restore an independent judiciary and by cracking down on the opposition.
Mr. Sharif has thrown his weight behind the lawyers and sealed his position as the nation's most popular political leader. But many who now stand with him do so at a distance – they remember that as prime minister in the 1990s he also tampered with the courts, aligned with religious parties, and aggrandized power to himself.
Some analysts claim that the experience of being toppled by a military coup changed Sharif into a reliable advocate for democratic institutions. Others find the transformation a bit too convenient – but suggest that the popular momentum for reform might be more powerful, for once, than any one political leader here.
"As we look to what extent Nawaz Sharif has changed, I think we should also look at how the [political] environment has changed. The people of Pakistan are much more interested in having leaders who have been showing their support for the democratic institutions and norms," says Khalid Rahman, director of the Institute for Policy Studies in Islamabad.
A Gallup poll this month reflects this movement toward principle over personality. Nearly half of Pakistan People's Party (PPP) voters disagree with Mr. Zardari's failure to restore former chief justice Iftikhar Chaudhry to the Supreme Court. And 58 percent disapprove of the current court's decision to disqualify Sharif and his brother from political office. They also oppose the PPP's move to take control of the provincial government the brothers had run.
The percentages run even higher among the electorate – a measure of the frustration that is expected to show itself on the streets in the coming days. Concerned, the government banned public gatherings and arrested hundreds of activists Wednesday. The protest is expected to swell Sunday when the marchers reach Lahore – the capital of Sharif's power base. From there it heads to Islamabad, where police have prepositioned empty truck containers that can be used to block off road access to the city.
Marches began Thursday in Quetta, the capital of southwestern Baluchistan Province, and in the southern city of Karachi, the stronghold of a party allied with the central government. In Karachi, police initially diverted traffic to facilitate the passage of more than 2,000 lawyers and activists. But they blocked the rally once it reached the toll plaza on the highway connecting Karachi with the rest of the country.
Soon after, two prominent leaders of the lawyers' movement were arrested. Police also arrested up to 100 other lawyers and political activists after charging at them with batons.
Protestors say they are not discouraged. "We are not afraid of arrests," says Mohammad Ishaq, a lawyer in Karachi. "Some of our colleagues were burned alive or showered with bullets in the past. Even then we didn't step back."
The arrests do seem to be having some chilling effect, though. "This is the main reason why young leaders are not coming out. They are fearful," says Uzaer Abdullah, a student at Quaid-i-Azam University in Islamabad. He says that despite his support for Sharif – "the only politician who is sincere with us" – he won't be participating in the protests for fear of being detained.
Several dozen leftists turned out in Islamabad Thursday to defy the ban on demonstrations. But the protesters also noted their unease with Sharif. He hasn't strongly condemned militants, says Iqbal Bali with the People's Rights Movement. Mr. Bali also worries that Sharif's power base – the merchant class in Punjab Province – draws from the same well that religious groups tied to militants do.
Ruling party leaders argue that Sharif's embrace of an independent judiciary and rule of law are positions of convenience. "Sharif's discovery of judicial independence is certainly coming at a self-serving moment," says Abida Hussain, a member of the PPP's central executive committee who was previously active in both Sharif's party and the lawyers' movement.
But some analysts say Sharif has been fairly consistent lately on the need to keep the military out of politics and politics out of the courts. "A sea change took place in his attitudes after his ouster in 1999," says Rashid Ahmad Khan, senior research fellow at the Islamabad Policy Research Institute.
He acknowledges that this wasn't always the case. During his second tenure as prime minister, Sharif was accused of engineering the dismissal of the chief justice.
Analysts say it's too early to know if Sharif can parlay the current crisis into a return to government. Most think it unlikely in the near term. The prospect may worry the US, analysts say, but there are reasons to think it shouldn't.
Although Sharif did get support from religious parties – some of whom before Sept. 11, 2001, had ties to militant groups – even then, he resisted calls from his religious allies to institute Islamic law, Mr. Khan points out.
"Nawaz has a history – he enjoys the support of the very elements that the West is petrified of," says Ayesha Jalal, a history professor at Tufts University. "But the fact is that when he has been in power, he has a record of being quite appeasing. Whether that will happen again, we don't know."
• Huma Yusuf contributed to this report from Karachi, Pakistan.