US withholds $4 billion in Afghanistan war aid. Can Gen. Petraeus cope?
Gen. David Petraeus's strategy in the Afghanistan war relies on money for reconstruction and development. But Congress says it will withhold $4 billion in Afghan aid unless rampant corruption is stopped.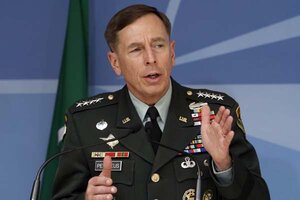 Virginia Mayo/AP Photo
General David Petraeus is about to take over the war in Afghanistan at a time when a weapon that the military views as crucial to success is being taken out of his hands. The weapon? Money.

Yesterday, the House budget committee withheld $4 billion in Afghanistan aid from the next budget over allegations that Afghan officials and foreign contractors have been stealing much of the country's aid.

General Petraeus briefed NATO allies in Brussels on Thursday before heading towards Afghanistan, and assured them that the current counterinsurgency strategy for the war – which blends offensive operations against the Taliban with quick development and governance improvements to convince Afghan citizen's they're better off without them – will remain on course.

But with Congress threatening to tighten the purse strings and angry responses from Afghan officials, who say that allegations the government of President Hamid Karzai is protecting its friends are false, a key portion of Petraeus's strategy could be undermined.

Over the past year, rumors of rampant corruption here have hardened into strong suspicions, with US officials both praising greater Afghan efforts to combat corruption and expressing frustration that investigations of politically-connected businessmen are being blocked by high officials.

"It's clear that a lot of money is being stolen by people close to the government," says a Western diplomat here who asked not to be named. "But how high it goes is difficult to prove."

Karzai looking into corruption
Qaseem Ludin, the deputy director of Afghanistan's corruption oversight agency, admits problems, but says that President Karzai is not standing in the way. "President Karzai has asked us to look at all the high-level officials – including his brothers – and to take action if we find anything," Mr. Ludin says. "Yes, judges take bribes, there are kickbacks, I admit we're in a tough fight. But we're starting to take action."

US officials and local politicians allege that Mr. Karzai's brothers have enriched themselves thanks to their connections. Mahmoud Karzai, the president's older brother who has investments in property, a bank, and companies that contract to the NATO coalition, says the allegations are motivated by political rivalry and have no merit.

"These allegations are politically motivated and, frankly, stupid," he says. "I have nothing to hide. This about trying to make President Karzai weak."

US military and civilian officials say corruption, and perceptions of corruption, have been a dominant factor in communities in Afghanistan's south where the Taliban is the strongest, and some US politicians are beginning to wonder if development aid on the scale planned here is possible at all.

This week, the Wall Street Journal quoted the head of customs at the Kabul airport as saying that $3 billion in cash has been flown out of the country (Afghanistan's annual GDP is worth about $11 billion) and the Washington Post quoted unnamed US officials as saying that the government has protected senior officials and connected-businessmen from prosecution.
US diplomatic pressure
Those reports, and behind the scenes pressure on the issue from US diplomats here, drew a sharp rebuke from Afghanistan Attorney General Muhammad Ishaq Alako this week, who complained that Ambassador Karl Eikenberry said he should resign if he doesn't soon prosecute a high-profile banker here on corruption charges.
"Do diplomatic ethics allow threats such as this one," an angry Mr. Aloko told reporters. "My response to him was that I am only accountable to my president and my parliament." Mr. Aloko also said the US has so far not acceded to an Afghan request to extradite a former executive of Ariana Airlines on corruption charges.
Afghan Finance Minister Hazrat Omar Zakhilwal also responded to reports of rampant theft by Afghan officials by charging that most of the money being stolen is being taken by foreign aid agencies and contractors. He accused them of illegally taking $4 billion out of the country.
"What disappoints us is that some Western media outlets and politicians accuse the government of corruption," he told reporters on Wednesday. "The international community wastes money here and blames it on the Afghan government."
"All of the contracts, all of the money, it's running through people around President Karzai," says Rahman Oghli, a member of parliament and a Karzai opponent. "The US and the international community could stop this if they wanted to. I don't know why they haven't yet."
Thomas Ruttig, a scholar who's studied Afghanistan since the 1980s and is now a senior analyst at the Afghan Analysts Network in Kabul, says both sides have a point. He says that Afghan officials are stealing money, but almost certainly so are foreign contractors, and blames the flood of cash into the country with little oversight for many of the problems.
"One thing I'm optimistic about is that the Afghans will get 100 percent of the blame," he says.
Stealing from pilgrims going to Mecca
Ludin, at the corruption oversight office, says progress is being made. He says that in recent weeks that a judge and a prosecutor have been arrested for corruption, and points to the successful prosecution of a man who helped former Minister for the Haj and Mosques Sediq Chakari steal money from pilgrims seeking to go to Mecca.
"The man's been sentenced to 16 years in jail and he's confirmed Chakari was involved," he says. Mr. Chakari has fled to England where he has dual citizenship, and Ludin complained that the UK is not helping with extradition.
The case of Chakari was apparently one of the ones that Ambassador Eikenberry brought up with Attorney General Aloko this week. Foreign diplomats here alleged that the government allowed Chakari to leave Kabul airport despite being wanted in connection with the theft. Aloko said Chakari used the confusion surrounding the high volume of pilgrims making the Haj to escape.
"They argue that I permitted Chakari to leave the country… they say I signed papers for him to be able to leave. Where is this paper," Aloko said. "Chakari is sitting in London right now. It's been three months that we have repeatedly sent letters to InterPol about him. We summoned the British Consul here and told him about this."
RELATED STORIES: