Afghans protest Quran burning
A number of protests broke out in Afghanistan Friday and turned violent in response to Quran-burning plans by a Florida pastor, even after the pastor said he cancelled those plans.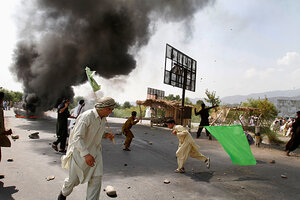 Rahmat Gul/AP
Protests over reports of plans by a US church to burn Qurans grew in Afghanistan Friday, with demonstrators marching in the streets in seven provinces, largely unaware that the Quran burning had been called off.
At least one protester was killed in the northern province of Badakhshan and more than 10 were wounded in various incidents around the country, government officials said.
The demonstrators attempted to force their way onto a NATO military compound, sparking clashes with police. Demonstrators chanted "death to Christians" and burned US flags. It was unclear who fired on the demonstrators.
WATCH VIDEO: Build a 'mosque' near ground zero?
RELATED: 11 countries speaking out against Koran burning in Florida
Protests also took place in Kabul and various provinces in the east and west of the country.
"The Russians invaded our lands to destroy our religion and we stood against them," said one protester in Kabul Province. "America is showing that it is opposed to our religion and culture as well. We will stand against them as well."
Pastor Terry Jones of the Dove World Outreach Center in Gainesville, Fla., had planned to burn Qurans on the anniversary of 9/11, but he announced Thursday evening that he had canceled the event. Some reports indicated, however, that the church might be reconsidering its decision. Most demonstrators interviewed Friday said they were not aware of the church's recent announcement to cancel.
Protests grow
Many of Friday's protests took place in areas that do not have a strong insurgent presence and seem to have been spontaneous outbursts of anger. Friday marked the beginning of Eid al-Fitr, the holiest day in the Islamic calendar. Millions of Afghans attended mosques in the morning for services, and the Quran-burning issue was a major topic of discussion.
In the largest mosque in the Qara Bagh district of Kabul, an imam closed his sermon by asking his congregation for suggestions on prayer topics. Some proposed prayers for the poor or the ill, but a number of attendees rose and denounced the Quran-burning, according to witness accounts. Soon many joined in condemnation, and the men poured into the street chanting slogans against the US.
Thousands of others from various mosques in the area joined them over the next few hours, government officials in the area said, and the large group decided to proceed to the nearby Bagram Air Base, a major US military base.
"Today is Eid and we are supposed to be celebrating," said Khan Agha, a protester. "But defending our religion is much more important. We want to confront the Americans." The protesters blocked the main highway north of Kabul for nearly three hours, before local officials persuaded them to not approach Bagram.
Just one small church?
Protesters largely did not distinguish between the actions of an obscure church and US policy in general.
"Obama has done nothing to stop this," explained a protester from the Bagrami district of Kabul (Obama did speak out against the planned Quran burning). "The non-Muslims are standing by while this is happening, so we will oppose them."
Most of those interviewed expressed similar sentiments.
The demonstrations come as anti-Western sentiment is on the rise here, due to a bloody nine-year war that shows no signs of abating. Protests over a number of issues, especially civilian casualties, have become commonplace. In recent months, angry demonstrators have attacked foreign military bases, the vehicles associated with foreign contractors, and more.
A number of protests against the Quran-burning are planned for this weekend, including one led by a group of parliamentary candidates that will be near the US Embassy. Some Afghan government officials downplayed the protests, however, saying that anger would likely dissipate in the coming days.
But Western officials have been sounding alarms that the attention to the planned burning could further provoke anti-Western sentiments.
Top Afghanistan commander Gen. David Petreaus warned ABC News that the burn could "endanger the lives of thousands" of American citizens in Afghanistan and around the globe. Staffan de Mistura, the chief United Nations official in the country, warned that spiraling protests and riots could even delay the upcoming parliamentary polls, scheduled for next week.
WATCH VIDEO: Build a 'mosque' near ground zero?
RELATED: 11 countries speaking out against Koran burning in Florida