5 key players in Pakistan's tribal belt
Pakistani military operations in the tribal regions bordering Afghanistan have steered clear of North Waziristan, allowing the area to become a haven for militants. Tribal and local intelligence sources say some 15,000 militants shelter in this semiautonomous tribal belt.
"It's a cobweb," says former Pakistani diplomat Ayaz Wazir.
New alliances between militant commanders in Waziristan have turned this area into a dangerous labyrinth, from which fighters can launch suicide attacks in Pakistan or missions against US and NATO forces in Afghanistan.
"It's an international war which has engulfed us," says Malik Khan Marjan Wazir, an influential tribal elder in North Waziristan. "The volcano is in Afghanistan but it erupts in our tribal areas."
For Marjan Wazir, peace won't be found through military operations or drone attacks, but in negotiations at what he calls "real" jirgas (tribal assemblies). "My elders would always tell me a story that if a woolen blanket gets leeches, you don't put to fire the whole blanket. You pluck them out with care."
Based on interviews with local tribesmen and intelligence sources, here's a list of the five biggest players in the region: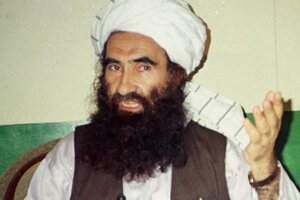 Mohammad Riaz/AP/File
1.

Sirajuddin Haqqani

He is head of the Haqqani network and believed to be the main bridge between Al Qaeda, Afghan Taliban, and militant outfits in North Waziristan. Known among jihadis as "Khalifa" and the "soul of Jihad," Mr. Haqqani has ties to Al Qaeda's Osama bin Laden and Ayman al Zawahiri.

He is the son of commander Jalaluddin Haqqani, a former Taliban minister for tribal affairs. Siraj's four brothers – Nasiruddin, Badruddin, Khalil, and Ibrahim – are the group's military shura (council). Nasiruddin is believed to have conducted fundraising in Saudi Arab and other Gulf states between 2006 and 2009. Badruddin handles politics, settling disputes between militant outfits. Siraj's youngest brother, Mohammed, was killed in February this year by a US drone strike.

The Haqqani network mainly operates along the border with Afghanistan's Khost province. The US is offering $5 million for information leading to the capture or death of Sirajuddin Haqqani.