India kicks off Commonwealth Games (Beijing Olympics these are not)
After weeks of concern over the safety and cleanliness of athletes' quarters, India's Commonwealth Games began Sunday with a colorful opening ceremony featuring Bollywood songs, yoga, and rickshaws.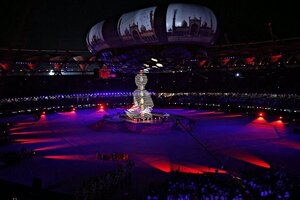 Suzanne Plunkett/Reuters
India kicked off its showcase 2010 Commonwealth Games in New Delhi with an impressive opening ceremony complete with Bollywood songs, yoga, and dancers weaving among bicycle rickshaws.
But, for sheer drama, the unofficial "pre-Games show" – the country's mad dash to get everything in place to host the quadrennial international Games – still stole the spotlight.
As deadline after deadline was missed, problems mounted in the final weeks. A footbridge collapsed at one of the venues, early-arriving teams found filthy sleeping quarters, and allegations of corruption, fudged safety inspections, and child labor dogged the organizers.
Read this related story: Where are all the spectators for India's Commonwealth Games?
At the same time, India aimed to make these the biggest-ever Games, promising to make the competition among mostly former British colonies a showcase of India's emerging economic power. Despite the national pride at stake, the Indian media vacillated between investigative outrage and irreverent humor about the whole thing.
There are deep truths here: Modern India has massive contradictions, but a winning ability to navigate them openly. In this respect, rival China with its slick Beijing Olympics is far behind.
"The corruption probe is there, but it is a democracy. Let's not forget that, rather than foreign media, it's the Indian media who are after [Organizing Committee chairman Suresh] Kalmadi and company. We are speaking it, and the entire world should take notice of that and applaud that," says Yashwant Deshmukh, an Indian pollster.
In the nick of time
With the last-second help of the Army, thousands of workers, and a providential end to the monsoon, it appears the sports extravaganza has come together in the nick of time. Some 6,000 athletes have arrived to compete from 71 nations and territories, most of them tied to the former British Empire.
"If you [American] guys hadn't thrown the tea in the harbor a few years ago you could have been here," says Andrew Pipe, the president of the Commonwealth Games Canada. Said like a true Canadian.
The 1.8 billion-person, non-American club brings together some obscure locales, including St. Helena, an island in the South Atlantic best known as the place of Napoleon's exile. It's so unknown that a "Know the Unknown" Commonwealth map in the Hindustan Times newspaper incorrectly placed it near the British mainland.
To come to the Games, the four athletes and one coach from the British territory had to take a five-day boat ride to South Africa before catching a flight to Delhi.

"We're hoping to get an airport soon," explains Colin Knipe, one of the athletes competing in shooting. Looking around the Games Village, complete with Internet café, dance stage, and billiards hall, he says, "I didn't think it was so big as this. [The organizers] did a lot of work."
The athletes from the Pacific island nation of Tuvalu, meanwhile, use their one airstrip to practice running in lieu of a track.
A different perspective on India's infrastructure delays
These reminders that many of the athletes come from far less developed places than India offer a different perspective on Delhi's infrastructure delays. The Games in fact spurred some world-class construction, including the successful expansion of the Delhi Metro and the recent opening of a shiny new international airport.
At age 60, Mr. Knipe is surprisingly not the oldest competitor – that distinction goes to 72-year-old lawn bowler Willie Wood. The youngest athlete is 13-year-old Alicia Blagg, an English diver.
The Games include lawn bowling among other British curios like badminton, rugby, squash, men's field hockey, and netball (a cousin of basketball). There's also a slate of more familiar sports including track and field, aquatics, boxing, cycling, gymnastics, tennis, weightlifting, and wrestling.
The opening ceremony celebrated India's diversity.
Lights projected the word "welcome" in the country's 18 different recognized languages onto the world's largest helium balloon. Mirrors suspended from the balloon bounced light around the mostly full stadium.
Music included Bollywood hits and an anthem from Oscar-winner A.R. Rahman, as well as traditional folk music with instruments like the Dung Chen trumpet from the Himalayas and the Chendra drum from tropical Kerala.
Visitors were asked to refrain from using "unparliamentary language." That didn't keep the audience from booing and laughing at Mr. Kalmadi. But Prince Charles received a warm welcome and Pakistan's team won the second-most raucous applause after India's athletes.
Competition begins Monday
The sporting events begin Monday and will run through Oct. 14. The Australians are the traditional powerhouse of the Games, with the Canadians, English, and Indians also fielding many medal contenders.
Some 30,000 people are serving as volunteers to help answer questions and direct foot-traffic. Another 100,000 police and paramilitaries are deployed around Delhi to guard the Games.
Concerns about security during the event were heightened following the shooting of two tourists from Taiwan at a Delhi landmark last month and subsequent threats from Islamic militants. The mosquitoes are another worry for some teams as the city is suffering from an outbreak of dengue fever.
A handful of famous athletes have pulled out of the Games, including Olympic sprinter Usain Bolt of Jamaica, who cited timing difficulties. Others, like Australian discus champ Dani Samuels, cited security and health concerns.
But most athletes here appear unfazed and express happiness with that they have seen so far.
"I figure they will do everything to keep us safe," says Bethany Carson, a swimmer from Northern Ireland. "I knew before in other Commonwealth Games there was always commotion, so I wasn't that concerned. I had faith they'd have it ready before competition."
TV Asia won the United States broadcast rights to the Games. If you tune in, be forewarned: Vuvuzelas have been selling around Delhi.