Under pressure from floods and courts, Pakistan's Zardari likely to keep his job
Ongoing confrontation between Pakistan's President Zardari and the high court has raised concerns about political instability, but some analysts say the lack of appetite for change means the government is likely to finish its term.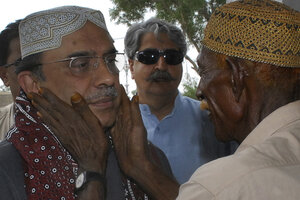 Akram Shahid/Reuters
A longstanding confrontation between Pakistan's civilian government and highest court over issues of corruption has raised concerns about a potential toppling of President Asif Ali Zardari's government. But the turmoil may not be what it seems.
The rhetoric on both sides has sharpened in a recent weeks over an ongoing effort to root out widely perceived corruption among politicians and the government.
Last week, Mr. Zardari told supporters he is "not afraid of jail mosquitoes" – a reference to the 13 years he spent behind bars in the 1990s and early 2000s as husband of then-opposition leader Benazir Bhutto, despite never having been convicted on corruption charges.
The Supreme Court, led by the popular Chief Justice Iftikhar Muhammad Chaudhry, meanwhile, continues to loudly chide the government for not implementing its recommendations to fire high-profile ministers.
The so-called clash between the institutions has dominated headlines here and provided fodder for the country's high-octane nightly news. It also has fueled gossip of imminent regime change among Islamabad's elite. But for all the apparent drama, and despite the recent news that the Muttahida Qaumi Movement (MQM) threatened to pull out of the coalition government of President Zardari after some 33 people were killed in politically motivated attacks over the weekend, some analysts here believe that, paradoxically, the country may be experiencing a rare period of political stability.
"For the past two years, we've had the same president, same prime minister, chief of Army staff, and chief justice," notes Cyril Almeida, a political columnist with Dawn, the leading English daily. "That is a Pakistani version of stability."
What's behind the drama
Last week, Chief Justice Chaudhry instituted a hearing on whether the government was planning to fire a number of judges, based on a television news report that Prime Minister Yusuf Raza Gilani swiftly denied and later took to national television to deny once more. Some analysts believe the report may have been a deliberate leak by the government to pressure the judiciary into giving a more lenient judgment.
At the heart of the clash is a controversial decree, known as the National Reconciliation Ordinance (NRO), which was passed by former President Pervez Musharraf in 2007. It was part of a political deal that allowed the late Mrs. Bhutto back into the country to contest 2008 elections without having to face charges related to money-laundering and kickbacks on government contracts.
The officials who were protected by the ordinance include Interior Minister Rehman Malik, Defense Minister Ahmed Mukhtar, and senior diplomats, including Wajid Shamsul Hassan, the ambassador to Britain.
The ordinance was ruled unconstitutional by Pakistan's Supreme Court in December, but the removal of key ministers and officials from office, in line with the court's recommendations, is not likely to be accepted by Zardari. This in turn has fueled speculation that the military will step in to enforce the court's ruling on the NRO.
Little appetite for change
Beneath the surface, however there appears to be little appetite for change, argue seasoned politicians and analysts.
Most crucially, such a move would not be backed by Pakistan's all-powerful Army, which has directly ruled the country for more than half of its 63-year history and doesn't wish to take on the burden of running a struggling economy badly hit by the worst flooding in 80 years. International Monetary Fund (IMF) officials are due to visit Pakistan next week to assess whether to relax restrictions on the country's burgeoning deficit. The damage to Pakistan's economy caused by this summer's flooding is estimated at some $9.5 billion, according to an assessment report by the Asian Development Bank and the World Bank.
"Why come forward and run the economy? Nobody can solve these problems," says Mr. Almeida. His argument extends to the main opposition leader, Nawaz Sharif, whose PML-N party could allow the government to complete its five-year term and make its own run for power in the next scheduled elections in 2013.
Balance of power
Haji Adeel, senior vice-president of the Awami National Party, a Pashtun-nationalist party that is part of the ruling coalition, agrees. "At this time, there's a balance of power inside the parliament in the center and the provinces. Everyone is in power everywhere, and nobody wants there to be early elections," he says, noting that all the main regional parties rule their respective provinces, while a coalition holds sway in the restive Balochistan Province. In other words, it's unlikely any party already holding power would join a movement calling for early elections, or take the political risk of becoming a "front party" for the military establishment.
Instead, argues an editorial in today's Dawn, "the extra slow game of chess between the court and the executive appears set to continue. Barring capitulation to the court's demands, the executive has few options other than to draw the process out and buy time in small increments, as it has done in various ways since last December."
Members of the ruling Pakistan People's Party are confident that the crisis will die down. "I think the government will last out its term," says Sherry Rehman, a member of parliament from the PPP and former Information minister. "There is indeed a paradox: the government continues to survive in the face of severe economic and development stresses with the flood and the war on terror," she says, conceding that the public "may eventually seek a change in government, but not the system."