Deadly bombings in Pakistan target mosques, killing more than 70 worshippers
Two mosque attacks on Friday come amid an increasing number of Taliban attacks targeting the mosques belonging to tribes that resist the militants' influence.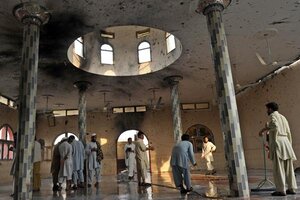 A Majeed/AFP Photo/Newscom
Two deadly bombings today in Pakistan targeted mosques and killed more than 70 worshipers, following an increasingly deadly pattern of Pakistani Taliban attacks on tribes that dare to defy its influence.
In the town of Dara Adam Khel, in Pakistan's northwest territory, a young suicide bomber detonated his load amid 300 worshipers during Friday prayers. He killed at least 67 people and injured more than 100.
On Friday evening, four grenades were hurled inside a mosque in the Suleman Khel village, which is on the outskirts of Khyber tribal region. The blasts killed at least four people.
The bombing in Dara Adam Khel appeared to be targeting the Akhoorwaal tribe because it has been resisting Taliban expansion. Pakistani Taliban claimed the responsibility.
"There is no right for traitors of mujahids and Islam to live," read a message from the Taliban, quoting notorious leader Tariq Afridi. Mr. Afridi is the commander of Tehrik-e-Taliban Pakistan (TTP), which is commonly known as the Pakistani Taliban and is linked with Al Qaeda.
Taliban targets: mosques and tribal elders
The attack was seemingly designed for maximum impact, as the bomb was detonated in the middle of Friday prayers, and combined two increasingly common Taliban targets: the mosque and the jirga (council of tribal elders). The targeted mosque was inside the hujra, or congregation spot, of the tribal council leader.
The suicide attack was one of the deadliest in a series of attacks by Al Qaeda and Taliban across Pakistan in which hundreds of people have lost their lives this year.
Taliban commanders are trying desperately to strengthen their hold across the region, say analysts. The US continues drone attacks on the semi-autonomous tribal region of North Waziristan along Pakistan-Afghanistan border while pressuring Pakistan to increase operations there. What's more, Pakistani security forces are ramping up operations in other tribal regions.
The bombing was meant to "terrorize tribesmen," says Brig. Mehmood Shah (ret.), a Peshawar-based analyst. "Taliban want to control the region so they are targeting locals who have raised voice against them. They want to eliminate the dissent," he says.
"It is the worst revenge tactic and showing that they are desperate and weakened," says Mr. Shah.
Dara Adam Khel lies about 31 miles south of Peshawar and links Orakzai and Khyber tribal region in the west through a hilly terrain. Pakistan's security forces have been pounding the area with bombs in a bid to rout militants in the ongoing operation. The forces have also been going after them in Khyber region where the militants attack NATO supply convoys.
Tribesman remain defiant
Eyewitnesses of the mosque attack described the moments before the blast occurred.
"I saw a young boy walking toward the worshipers. The moment he raised his arms, he exploded," says Mohammad Nasir.
The attack triggered terror alerts and warnings for additional attacks by Taliban across the country, especially in the northwest.
"It's a cowardly act. The terrorists might try to carry out more attacks but we are not afraid," says Provincial Minister Mian Iftikhar, whose only son was assassinated by the Taliban three months ago. "It's a long battle against terrorists and extremists. They can be defeated once we remain united."
"The US, Afghanistan, and Pakistan should have to continue to wage war to eliminate terrorism," he says.
In Dara Adam Khel, members of the Akhoorwaal tribe vowed to continue fighting the Taliban.
"We will not let the sacrifices of our tribesmen be in vain. We won't let them convert our future generation into terrorists and destabilize the country. We will start mobilizing other tribes in our war against terrorists," says tribesman Javed Ur Rehman Akhoorwaal.