Why Karachi is seething
Pakistan's largest city, Karachi, is once again paralyzed by ethnic and political violence that over the past three days has killed at least 65 people. In the past year, an estimated 1,300 people have died in the fighting. Below, the Monitor answers four key questions about Karachi's ongoing strife.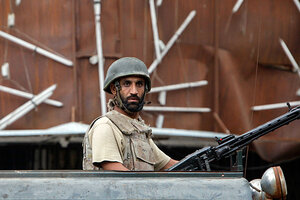 Akhtar Soomro/Reuters
1.

Why does Karachi seem to explode in spasms of violence every few months?

Karachi has turned into a battleground where ethnic and political parties fight for control of the city, which is home to 18 million people.

As the saying goes, "If you control Karachi, you control Pakistan." Karachi is the nerve center of the Pakistani economy, with about 70 percent of national revenues generated here. It connects the country with the world through its seaport and 40 percent of NATO supplies travel through Karachi.

It's also home to heavily armed criminal and drug gangs. Mafia groups have forged alliances with political and ethnic groups and religious extremists. All of this creates an explosive cocktail that can ignite at any moment, making Karachi one of the most dangerous cities in the world.