The Malala moment: 6 Pakistani views on the girl shot by the Taliban
The shooting of 14-year-old Malala Yousufzai by a Taliban gunman has shocked Pakistan and led to some extraordinary writing in the press on how Islamic radicalism is enabled. On the back foot for years, liberals are getting a new hearing against extremist religious parties, the powerful military, and a populist anti-US politician.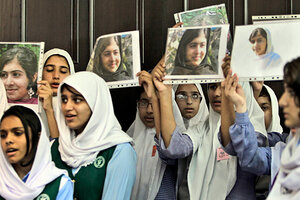 Kamran Jebreili/AP
1.

'I want my daughter to love my faith, so she will not visit Pakistan'

Malala Yousufzai initially gained fame for speaking out against the Pakistani Taliban and their campaigns against girls' schools in her home region of Swat.

The story of Rashid Ahmed Khan, a Pakistani living in America, highlights how modern education was once encouraged – not violently opposed – by rural religious authorities in Pakistan. Mr. Khan grew up poor in a Pakistani village, but got financial help and encouragement to continue his education from an aalim, or religious scholar, named Shah Sahib.

Fast forward 20 years to today. Rashid holds two tickets to Pakistan, one for himself, and one for his highly-educated daughter who has always wanted to see his home village.
For 20 years Rashid waited for this day. But instead of boarding the plane, he returned his tickets. It all seemed so meaningless to him after reading how a 14-year old girl, Malala Yousufzai, was gunned down for seeking education.

..."after I read what the Taliban did to Malala, I thought those people are not yet ready to respect a woman. So I decided I will not take Shamila to my village," he said.

"Because of Shah Sahib, I have always associated religion with knowledge, light and emancipation. But now when I see it being used to promote ignorance and intolerance, it hurts me.

"I taught my daughter what I learned from Shah Sahib. And I want her to continue to believe in him too. But I fear that if she goes there, she may change. That's why I do not want to take her with me."