At Cannes, vivid and violent films figure prominently
While the famed festival kicks off with Disney-Pixar's 'Up,' other titles are far less fanciful.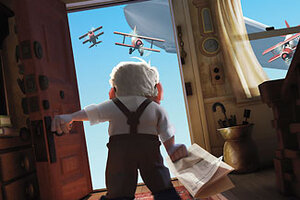 Disney/Pixar/AP
A priest-turned-vampire, a prison face-off with gang members, Nazi hunters, and a killer obsessed with revenge aren't exactly the characters or situations that leap to mind when thinking of the Cannes film festival. Yet these and other vivid, potentially blood-soaked themes are at the center of some of the films at Cannes' 62nd competition, which launched Wednesday with the world premiere of "Up," Disney-Pixar's fanciful animated adventure about an elderly widower's escape from modern life.
Much of the media's attention has focused on the plethora of major auteurs lined up by Cannes' festival director Thierry Frémaux – from Quentin Tarantino ("Inglourious Basterds") and Jane Campion ("Bright Star") to Michael Haneke ("The White Ribbon") and Alain Resnais ("Les Herbes Folles").
But other factors, such as the pulpy nature of many of the entries in the competition and parallel sections, may dominate conversations along the Croisette, Cannes' bustling beachside promenade.
The presence of the "grands names" is undeniable. But whether they or one of the several directors looking for their first Palm will get the nod from the competition jury is the subject of much intrigue.
The face-off will be between previous Palm winners Tarantino, Campion, Ken Loach, and Lars von Trier versus Palm-less competition stalwarts Haneke, Resnais, Pedro Almodovar, Ang Lee, Marco Bellocchio, and Tsai Ming-liang.
But considering the genre-heavy quality of several of Fremaux's picks, the mood at Cannes may be violent indeed. Mr. Tarantino's World War II adventure features Brad Pitt leading a motley crew of Jewish underground fighters aiming to collect the scalps of Nazis. Jacques Audiard's "A Prophet" delves inside a violent prison. While Hong Kong master Johnnie To serves up gun-toting French pop star-actor Johnny Hallyday in the self-evidently titled "Vengeance," Mr. von Trier stages an encounter between co-stars Willem Dafoe and Charlotte Gainsbourg and the devil in "Antichrist." (The Devil makes another appearance in Terry Gilliam's out-of-competition film, "The Imaginarium of Dr. Parnassus," marking the final screen appearance of Heath Ledger).
Killers of one sort or another are set to pop up all over Cannes, from Isabel Coixet's competition debut "Map of the Sounds of Tokyo" to "Kinatay" by Brillante Mendoza, part of the wave of young Filipino cineastes whom Cannes has welcomed.
A more historically meaningful dimension to the festival comes in the form of the 50th anniversary of the French New Wave. The entry of filmmakers such as Jean-Luc Godard and François Truffaut upset the conservative strain of the 1950s. By granting Mr. Truffaut's debut, "The 400 Blows," a competition slot in 1959, Cannes officially endorsed a movement viewed with great suspicion by the French film establishment.
Many of the original New Wave guard are still active, with the presence of Alain Resnais in the competition making a loud statement. Adding to the nostalgia and sense of tribute is director Tsai's casting of Jean-Pierre Léaud, Truffaut's "400 Blows" star, in "Face." Capping this New Wave wave is the premiere of Emmanuel Laurent's "Les Deux de la Vague," a documentary about Jean-Luc Godard and Truffaut.
While some Hollywood visitors to Cannes are lamenting the lack of a major presence of American movies, others are applauding the rising presence of east Asia: Taiwan's Tsai, Hong Kong's To, and China's Lou Ye (who reportedly made his gay-themed "Spring Fever" under a cloak of secrecy from Chinese authorities). Also notable is Korean cult favorite Park Chan-wook, who made the vampire thriller. The Asian film dominance spills over into Cannes' noncompetitive Un Certain Regard section and will leave its stamp on the closely-watched, independent-minded Directors Fortnight section.