Pope Benedict scolds Ireland's bishops over sex abuse scandal
In an unprecedented move, Pope Benedict XVI summoned all 24 of Ireland's bishops to the Vatican to discuss the fallout from two reports that Catholic priests in Ireland sexually abused children for decades and that church officials covered up the behavior.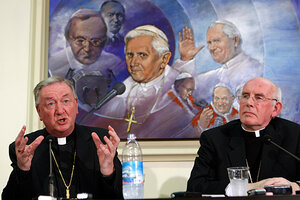 Alessandra Tarantino/AP
All 24 of Ireland's serving Roman Catholic bishops were hauled in front of the pope to be told that the sexual abuse of children was a "heinous crime," in what Vatican experts said was an unprecedented attempt to deal with a sexual abuse crisis that has roiled the church establishment.
The bishops were called to Rome for a two-day summit with Benedict XVI on Monday and Tuesday to discuss a scandal that has shaken once staunchly Catholic Ireland to its core – with recent revelations that for decades priests and other clergy sexually abused children while church and police officials sometimes looked the other way.
The Church's covering up the sexual abuse of children had caused a "grave crisis" that had led to "a breakdown in trust in the Church's leadership," the pontiff told the bishops.
In unusually forthright language, he told the bishops that the sexual abuse of children was a "grave sin."
He called on them to work hard to restore "spiritual and moral credibility" in the wake of two reports released last year which documented abuse and cover-ups in church-run schools, workhouses, and orphanages over 50 years.
The Vatican has admitted that sex abuse scandals in Ireland, the United States, Australia and, most recently, in Germany, have gravely damaged the standing of the Roman Catholic Church and present a "hard and humiliating challenge."
Vatican insiders say the priority given to tackling the scandal was unprecedented.
Crisis management
"I know of no other case where the pope has summoned all the bishops of a country to the Vatican for a crisis management session," says Francis X. Rocca, the Vatican correspondent for the Washington-based Religion News Service.
"They come routinely every five years but this was to talk about this specific problem. The fact that the pope met with them two days in a row is an extraordinary commitment of his time when you think of all the demands he faces."
The sex abuse scandal broke in May last year when a report ordered by the Irish government revealed that the Catholic Church covered up almost four decades of sexual and physical abuse by priests and nuns against thousands of children in state care. Serial abusers were moved from parish to parish and school to school in a successful attempt to save the careers of clergy and keep the scandal under wraps, the report said.
That was followed by another report six months later, which revealed that pedophile priests had engaged in sex abuse between 1975 and 2004 and found that several bishops had mishandled complaints made by victims.
In a statement released Tuesday, the Vatican said the pope and the Irish bishops had "examined the failure of Irish Church authorities for many years to act effectively in dealing with cases involving the sexual abuse of young people by some Irish clergy."
At a press conference, five of the Irish bishops promised to implement "significant measures" to ensure that the abuse never happened again.
Pontiff pained
They said the two days of talks with the pope had been "clear and frank" but dismissed suggestions that they had been subjected to a stinging rebuke.
"It was very, very painful for him to hear of these stories of abuse first hand," said the bishop of Ferns, Denis Brennan. "We all know that there's great anger out there and it's richly deserved. We accept that and we understand it."
The failure to tackle decades of child abuse by priests had created a "rupture" between the church and Irish society, he said. "We are determined to regain the trust of the Irish people but we know it won't be quick or easy."
The leader of the delegation, Cardinal Sean Brady, primate of all Ireland, said the church realized that it had to show "real penance, a change of heart" in order to win back the trust of Ireland's faithful.
"There have been failures in our leadership, and as one of the victim's daughters said, the only way we will regain that credibility is through our humiliation," he said. He said he had spoken to the members of a parish in County Louth last week who had expressed their disgust over the decades-long scandal.
"They left me in no doubt about their disillusionment, anger, shame and sense of betrayal," Cardinal Brady, the Archbishop of Armagh, said.
Victim support groups in Ireland and the US said the bishops had come up only with rhetoric rather than action, and called on Benedict to travel to Ireland to apologize for the abuse.
"The words coming out at the moment seem to be positive. Whether they will act upon them and whether they will go far enough is another matter," said the founder of Irish Survivors of Child Abuse, John Kelly. "We are entitled to expect that the Pope hold accountable those who committed crimes or covered up crimes, including bishops. Then he can come to Ireland and apologize," he said.
An American group dismissed the two-day summit as a meaningless public relations exercise.
"Does anyone honestly think that the very same men who ignored and concealed child sex crimes for decades will ... suddenly be part of the solution, instead of part of the problem?" asked Barbara Dorris of the Survivors Network of those Abused by Priests.
Four Irish bishops have offered to resign over the scandal but only one, former bishop of Limerick Donal Murray, has so far had his resignation accepted by the Pope.