Austria election: Voters set to reelect Heinz Fischer
President Heinz Fischer is expected to win Sunday's Austria election handily, despite a challenge from far-right opponent Barbara Rosenkranz.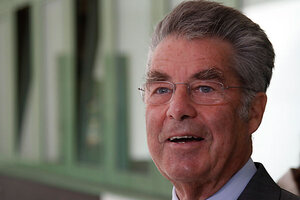 Leonhard Foeger/Reuters
A Nazi-sympathizing mother of 10 and a paranoid conspiracy theorist are the two candidates standing against incumbent President Heinz Fischer in Sunday's Austria election.
Neither is expected to pose much of a challenge, however. And when results come in Sunday evening, Mr. Fischer – who was a member of the Social Democrats before becoming an independent when he ran and won in 2004 – is expected to be reelected with more than 70 percent of the vote.

"The only way Fischer will not win, is if he dies within the next few hours," says Dr. Andreas Pittler, a political analyst and historian. "Really. He is the only serious candidate."
Politics in Austria
Austria has two main political parties – the conservative People's Party and the Social Democrats – with a few other factions in play, not the least of which is the far-right Freedom Party and its various splinter groups.
None of the key parties, except the Freedom Party, put forth a candidate. The People's Party, the Social Democrats and the Green Party all endorsed Fischer.
The Freedom Party, meanwhile, offered up Barbara Rosenkranz, a lower Parliament representative who is married to the publisher of an extreme right-wing magazine.
She has lobbied to change Austria's strict anti-Nazi law, claiming it punishes young people too harshly for what she calls "teenage folly."

The head of the fringe Christian Party, Rudolf Gehring, is expected to garner up to five percent of the vote, despite his anti-gay platform and his warning to supporters that government forces will soon be implanting chips into the brains of Austrians.

No Hapsburgs allowed
Green Party member Dr. Ulrich Habsburg-Lothringen – the great-nephew of Austria's last emperor – campaigned tirelessly for the right to run.
Since the dissolution of the Austro-Hungarian empire in 1918, the Constitution forbids a member of the monarchy from becoming chancellor or president. Habsburg-Lohringen didn't get quite enough support to petition for a place on the ballot, but the constitutional court has agreed to hear his case after the election, possibly ending the nearly 100-year-old law prohibiting royalty from holding high office.

"Apparently, the Austrian Republic is still so insecure that it needs this law. Austrians are more afraid of the Habsburgs than the Nazis," Habsburg-Lothringen told AFP.
Blank votes
The lack of a significant challenge to Fischer is unsettling to a core contingent of voters.

"We're voting 'blank,' " says Luise Brammertz, a painter and photographer who lives in Vienna. Brammertz is among a swell of dissatisfied citizens. "There are no real candidates to choose from."

Reinhard Drescher , a 23-year-old university student from Lower Austria, echoes Brammertz. "I'll vote blank. Not one of the candidates corresponds to my image of a president. Sadly, I think that my action will have the same effect as voting for [Fischer}."

A father of the nation?
Still, Fischer is still among the most respected politicians in recent Austrian memory.
The role of president in Austria is, in many ways, that of a figurehead. But Austrians look to their president to offer a sense of security and identity.
"The person who is president is seen as some kind of father for the nation," says Pittler. "Although [Fischer] is a very formal man, he is very contemplative and even-tempered," says Pittler. "This serves him well in the presidency."


Related: