No ballots, long lines: UK election night snarls spur investigation
Britons who queued for hours on UK election night were turned away as ballots ran short or polls closed before they could vote. An investigation is under way into logjams that could have an impact on an already muddled outcome.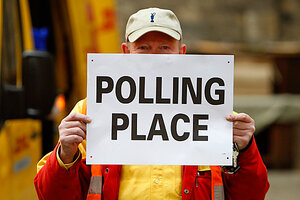 David Moir/Reuters
In 2000, the UK shared in the global astonishment as a US presidential election descended into a tragicomedy starring the hanging chads of Florida.

After they woke up this morning, Britons discovered that their own antiquated electoral system was far from perfect when it came to ensuring that all citizens would be able to exercise their simple democratic right.

An investigation by electoral authorities was launched after hundreds of people seeking to cast their vote in Britain's general election were turned away from busy polling stations late on Thursday night.

The system was described as "Victorian" by the chairwoman of the Electoral Commission, an independent watchdog, after a high turnout led to some polling stations running out of ballot papers as voters arrived in large numbers.

Jenny Watson, who heads the commission, said the system was at breaking point and promised a probe into problems around the UK, including London, Sheffield, Manchester, Liverpool, and Newcastle.

Amid chaotic scenes, police were called to some polling stations. Angry members of the public refused to leave when told that they would not be able to vote after the stations closed at the officially mandated time of 10 p.m.

Would-be voters in the east London constituency of Hackney staged a sit-in after learning they could not vote, despite queuing for hours in the rain.

"The results will be a joke," said Finn Greig, a youth worker who was among those who refused to leave the voting center, told The Times.
"How can you take results seriously when hundreds, maybe thousands couldn't vote?"

In the northern English constituency of Sheffield Hallam, which is represented by Nick Clegg, the leader of the Liberal Democrats, young people attempted to prevent boxes full of votes from being taken away for counted after they were turned away.
Voters refuse to leave
Watson told ITV, a British television channel, that her agency had been calling on the government and parliamentary authorities to ensure that there was better coordination of the election system, and for her staff to be given the power to exercise greater powers of direction.

"I hope that last night's experiences will persuade them there is a real need to look at our Victorian system and modernize it to make it fit for a 21st century democracy."

The chaos could potentially have an impact on Britain's already muddled election outcome if defeated parliamentary candidates in areas affected by the chaos choose to bring legal actions, claiming that they were unfairly deprived of voters.

"This was meant to be the kind of shenanigans the Americans got up to," observed an election commentator, Jonathan Freedland, in The Guardian this morning.

"But not many were laughing, not when some of those votes might have made all the difference."
Related: