Britain calls Israel's Gaza flotilla raid unacceptable
Britain Prime Minister David Cameron said Israel's Gaza flotilla raid was 'completely unacceptable' and called for an end to the economic blockade of the impoverished territory.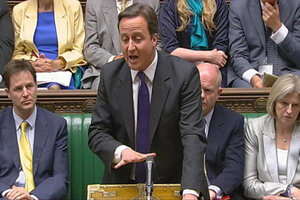 Parbul TV via Reuters TV
Britain Prime Minister David Cameron called Israel's deadly raid on the Turkish-led Gaza Freedom Flotilla "completely unacceptable" and called for an end to the economic blockade of the Gaza Strip.
The strength of language used today by new Prime Minister Cameron and Foreign Secretary William Hague illustrates the depth of anger here over Israel's commando raid in international waters on Monday, which saw nine pro-Palestinian activists killed as they sought to bring humanitarian aid to the Gaza Strip. After all, Mr. Cameron and Mr. Hague are patrons of the Conservative Party's Friends of Israel lobby and have strong pro-Israel voting records in Parliament.
IN PICTURES: The Gaza flotilla
The timing of the operation, in which a total of 37 British nationals were caught up, could also not be worse in terms of easing already frayed Israeli-UK relations. Just over two months have passed since Britain expelled a senior Israeli diplomat over the use of 12 forged British passports in the killing of a senior Hamas leader in Dubai in January.
Britons were outraged by that incident, and a belief has been growing here that the Jewish state plays by its own rules. Hague said today that "we are seriously concerned about the seizure of British nationals in international waters, and this aspect of the Israeli operation must form a key part of the investigation into these events." Questions have arisen about the legality of Israel's raid.
The response of Cameron's government to its first major diplomatic challenge is being closely watched, given that the two governing coalition parties embrace widely divergent views on Israel. The junior partner Liberal Democrats are typically more critical of Israel than the Conservatives.
"So far, they [the coalition] have covered all their bases by speaking with three voices," said Rosemary Hollis, a Middle East specialist at London's City University.
LibDem leverage?
Some wonder if there may be scope for the Liberal Democrats – home to some of the most vociferous critics of Israel among Britain's three biggest parties – to extract concessions over the issue. The LibDems' annual conference last year heard a call for an arms embargo against Israel, and some in the party want an economic boycott.
"One of the things I think we should be pressing for now is for an independent investigation into the flotilla affair," says Jonathan Fryer of the Liberal Democrat Friends of Palestine. An independent investigation is being called for by the Tories as well, and seems likely to move forward with broad backing from the UN Human Rights Council, though Israel seems unlikely to participate, just as it refused to participate in the independent investigation into possible war crimes stemming from the 2008-2009 Gaza war.
Such a position places Britain at odds with the US, which said Monday that any investigation into the raid should be led by Israel. Israeli Prime Minister Benjamin Netanyahu dismissed his country's critics on Wednesday, referring to the ship where the nine activists were killed as a "hate boat" whose passengers were "violent supporters of terrorism."
"I really think there is a feeling among many in the capitals of Europe that Israel has just gone too far," says Mr. Fryer. "We will certainly be arguing that the time has come for some sorts of sanctions to formally express the international community's disgust with this behavior."
To be sure, while the tempered nature of the criticism from Cameron and Mr. Hague today reflected anger, nothing suggests that either man would even begin to think of placing sanctions on Israel.
Nevertheless, observers caution against characterizing the Conservative Party as being beholden to pro-Israeli lobby groups.
If anything, the track record of the party in the Middle East has followed the principles of realpolitik, forging lucrative deals with Arab regimes in the 1980s while enjoying good ties with Israeli as a result of Margaret Thatcher's opposition to the PLO, an ally of the Irish Republican Army (IRA).
"There is quite a broad spectrum of opinion within the Conservative hierarchy and there are some hard-nosed business types who see Israeli action as a problem for relations with other countries in the Middle East," says Dr. Hollis.
Hollis says it isn't all bad news for Israel. While the UK has pitched more critical, other European states have become more supportive. "The British were perceived to have moved toward the Washington side of everyone in Europe under Tony Blair," says Hollis. "Since then, they have moved back toward the center of the spectrum in Europe while [German Chancellor Angela] Merkel and [French President Nicolas] Sarkozy have positioned their countries ... as more pro-Israel than anything else."

Related: