Poland election: Center-right Bronislaw Komorowski edges out Jaroslaw Kaczynski
Acting president Bronislaw Komorowski edged out Jaroslaw Kaczynski, opposition leader and twin brother of the late President Lech Kaczynski, with just over 52 percent of the vote in Sunday's Poland election.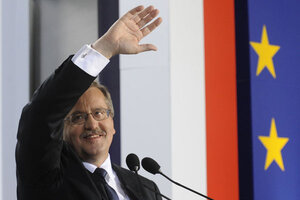 AP
Nearly three months after the tragic April 10 plane crash in Smolensk, western Russia, which killed Polish President Lech Kaczynski, Polish voters elected the country's new president on Sunday.
After the first round of the Poland election on June 20 failed to produce a majority winner, Speaker of Parliament Bronislaw Komorowski from the ruling center-right Civic Platform (PO) edged out Jaroslaw Kaczynski, the president's twin brother and leader of the right-wing Law and Justice (PiS) party, in Sunday's runoff election.
Mr. Kaczynski conceded defeat Sunday night after 95 percent of the votes were counted, showing that Mr. Komorowski had an unassailable lead with 52.63 percent, compared with Kaczynski's 47.37 percent.
Komorowski's win means both the executive and legislative branches of Poland's government will be united under the pro-business Civic Platform party, but Kaczynski's rise in the polls throughout the race means that the right-wing PiS will be invigorated for a strong challenge during parliamentary elections in just over a year.
For now, though, Komorowski wanted the nation to focus on the fact that it is emerging pretty well united after a very difficult period following the April plane crash that killed its president and dozens of other high-ranking officials.
"We have a reason for satisfaction, because Polish democracy has won," Komorowski told his supporters after the announcement of preliminary results. "We've managed to persevere through difficult moments, and now ... we have to carry out a tremendous effort so that divisions don't hinder us from working together."
Wooing the left in a tight race
During the campaign, both contenders sought support from undecided and left-wing voters. Kaczynski endorsed Grzegorz Napieralski, the leader of the center-left Democratic Left Alliance (SLD), who came in third in the first round with a surprising 13.7 percent of the vote.
"Grzegorz Napieralski adopted an active campaign strategy before the first round, and he traveled through the whole country," says Joanna Zaluska of the Stefan Batory Foundation, a think tank in Warsaw. "In the second round, both candidates have followed the same strategy and accelerated their campaigns. They also encouraged voters to participate in the election, and this had a positive effect on the attendance."
In attempt to woo left-wing voters, Komorowski, assuming his responsibilities as acting president, appointed Marek Belka, a former prime minister in a left-wing cabinet, as the new governor of Poland's central bank. Kaczynski, formerly known for his tough anticommunist rhetoric, went as far as to call one Polish Communist party leader from the Soviet era "a communist, but also a patriot."
New life for Kaczynski
Despite his electoral defeat, the Sunday vote is not necessarily a cul-de-sac for Kaczynski, analysts say.
The recent rise in popularity of his Law and Justice party could very well pave the way for its victory in the parliamentary elections slated for fall 2011. Now that both the government and the president are from the ruling Civic Platform, Kaczynski's party, which was ousted from power in 2007, is expected to become rock-solid opposition before next year's vote.
Challenges and ambitions
The year 2011 will play a key role in Poland's future, as the country will take over the European Union's presidency in the second half of the year. But Warsaw's ambitions of emerging as a regional power are perhaps best visible in its continuous diplomatic initiatives.
On Saturday, United States Secretary of State Hillary Rodham Clinton came to Poland to participate in a Community of Democracies summit in Krakow. The intergovernmental organization, assembling 16 democratic member states, celebrated its 10th anniversary since being established by former US Secretary of State Madeleine Albright and Poland's then-Foreign Minister Bronislaw Geremek.
The summit's date was set prior to the April 10 plane crash, which accelerated Poland's presidential election. During her visit in Krakow, Mrs. Clinton steered away from explicit declarations in favor of any of the candidates.
"This weekend, Poland is set to renew its democracy by holding the runoff to the presidential election," Mrs. Clinton said on Saturday, as quoted by the Gazeta Wyborcza newspaper. "No matter which candidate wins the vote, the United States will remain Poland's friend and close ally."
Poland's relations with Russia, Poland's communist-era master, have improved since the plane crash, but the recent deployment of US MIM-104 Patriot missiles to the Morag military base in northern Poland,was met with suspicion by Moscow. Komorowski is expected to endorse the Polish government's attempts to break the ice.
Related: