Five noteworthy aspects of Britain's tough spending plan
Britain announced budget cuts Wednesday that are part of a five-year austerity plan and the largest public spending reductions since World War II. Cuts will average 19 percent for most departments, but welfare benefits take a strong hit and some departments' budgets will be trimmed by as much as 23 percent.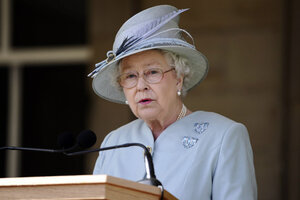 Dylan Martinez/Reuters
The Queen

Even the royal household will take a hit in this period of austerity. The queen's spending will be reduced by 14 percent in 2012-13, a decrease of about $7.9 million, and she has agreed to one-year freeze in spending for this year. She typically receives about $47.4 million a year, $12.5 million of which comes in a grant funded by taxpayers.