Maundy Thursday: Queen Elizabeth gives out money, Czech children go skinny dipping
Maundy Thursday commemorates the Last Supper of Jesus Christ with the Apostles, falling every year on the day before Good Friday. While the Roman Catholic Church calls it "Holy Thursday," the Anglican Church uses the name "Maundy Thursday" in accordance with the Old English phrasing of Jesus' commandment that humans should love one another. Here are ways that five European nations celebrate the Christian holiday, starting in Britain with Queen Elizabeth.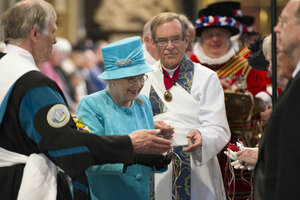 Arthur Edwards/Reuters
1.

Britain: Queen gives 'Maundy money'

Queen Elizabeth handed out "Maundy money" to the needy today. It was the first time in 10 years that the ceremony was held at Westminster Abbey, where Prince William will soon marry Kate Middleton, and was reportedly something of a dress rehearsal to the April 29 wedding day.

For the first time ever, it also coincided with the Queen's birthday.

"The practice of distributing 'alms' to the needy or worthy on the Thursday of Holy Week dates back centuries and is an important annual event in the Queen's calendar," reports The Daily Telegraph. "The recipients of the Maundy money – 85 women and 85 men, one for each of the sovereign's 85 years – were retired pensioners selected because of their tireless work for the Church and their communities."