Five key questions: How the London police plan to protect the royal wedding
More than 1 million people are expected to crowd London's streets Friday for the wedding between Prince William and Kate Middleton. While royal fans speculate about the wedding dress, British police are fretting over security. Check out five questions (and answers) about the plan for keeping the royal family safe.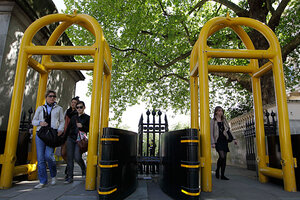 Sang Tan/AP
How much is being spent on security?

As soon as Prince William and Kate Middleton announced their engagement, security preparations for the wedding day began. The royal family was quick to assure Britons, chafing under austerity cuts, that the Windsor and Middleton families would bear all costs aside from the security price tag.

Sounds nice, but security expenses have reached $33 million, according to Time Magazine. That doesn't include what it would have cost if the royals had invited the Obamas to the wedding – which they reportedly opted not to do because of the immense security measures that would be necessary to protect the president.

How that stacks up to the rest of the wedding costs is unclear. The Daily Mail reported that they spent more than $82,000 just on foliage for Westminster Abbey, the site of the wedding.