Amanda Knox freed: A timeline of key events
The saga of American Amanda Knox and former boyfriend Raffaele Sollecito – who were found guilty of murdering a young British woman in Perugia, Italy, in November 2007 – came to a close Monday with their convictions overturned on appeal. Both were set free. The path to Monday's decision has been a long and convoluted one. A look back at several key moments: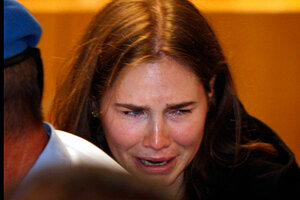 AP Photo/Pier Paolo Cito
October 3, 2011 Appeal

On Monday, Oct. 3, an Italian appeals panel cleared 24-year-old Amanda Knox and her former boyfriend of murdering British college student Meredith Kercher. After four years in prison, the two were set free in Perugia, Italy. The Seattle native, arrested for the 2007 crime, was convicted in 2009. Amanda Knox and her boyfriend denied any wrong doing. The Italian court heard testimony from independent forensic investigators who indicated that the evidence in the original investigation may have been contaminated.

.