Kate Middleton: New succession rules could make her mother of Britain's next queen
Kate Middleton could be the first British royal in centuries to see an eldest daughter become Queen instead of a younger brother.
Under the century-old tradition of male primogeniture, if the eldest child was a girl she would only become queen if none of her younger siblings were boys. Now, with the assent of 16 countries in the Commonwealth, girls will be just as eligible as their brothers, meaning the eldest child will always ascend to the throne.
The change in law, which is expected to soon be formalized in the British parliament, also lifts a ban on Catholic heirs – a move British Prime Minister David Cameron and Catholic leaders have praised.
Here are five would-be queens who were leap-frogged by their brothers for the throne: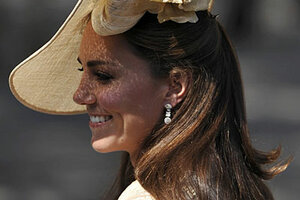 Dylan Martinez/AP/File
Margaret Tudor

In 1509, Henry VIII took the throne. But if first-born daughters had been eligible to rule, his elder sister Margaret Tudor would have taken power instead.

Margaret, the daughter of an English king and the wife of a Scottish king, made it her main political aim to unite England and Scotland. While Margaret's life had tragic elements, she ultimately succeeded in her goal – albeit after her death – when her great-grandson become King James I of England in 1603. King James united the crowns of England, Scotland, and Ireland, and commissioned the King James version of the Bible – considered by some scholars as the finest work ever written in the English language.