Defying Putin: 7 Russians to watch
Vladimir Putin's "managed democracy" offers few opportunities for new leaders to emerge, build their own independent political base, and legitimately vie for power.
That closed and controlled system is now teetering after tens of thousands of Russians marched in the streets of Russian cities in December to reject Mr. Putin's penchant for bureaucratic manipulation, media control, and vote-rigging.
Fresh leaders are emerging without the Kremlin's approval and finding their voices. The following are seven to watch in coming months.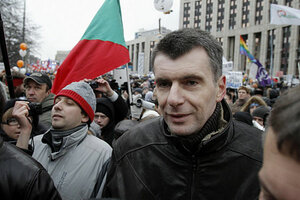 Ivan Sekretarev/AP
1.

Mikhail Prokhorov, the billionaire

A billionaire playboy and Russia's third wealthiest man, Mr. Prokhorov is best known in the US as owner of the New Jersey Nets basketball team, and in Russia as the country's most eligible bachelor and a tireless promoter of nanotechnology and electric cars. Until recently he appeared to be a consummate conformist, who obeyed the Putin-era's prime directive that the rich must stay out of politics. But last summer he took over a small right-wing party, apparently with Putin's blessing, and subsequently broke dramatically with his Kremlin handlers over what candidates the party could field and which political positions it could take. After the Dec. 10 mass rally in Moscow against alleged electoral fraud, Prokhorov publicly praised the demonstrators and announced that he will run against Putin in presidential polls slated for March 4. Since nominations are now closed, Prokhorov is likely to be the only one of the new opposition leaders to appear on the ballot in those elections, a factor that might not help him if the mood in the streets continues to grow more radical.