Kate Middleton lends a hand to children, the arts with her charity projects
Kate Middleton, known as the Duchess of Cambridge since her marriage to Prince William in April 2011, today announced the first five organizations she will support as a royal patron. Charity work is a key component of her new role as a royal, in which she can harness her remarkable popularity as a modern, elegant princess to drive new momentum – and funding – toward the issues and groups of her choice.
In a boost to her selected charities, the Duchess of Cambridge – whose 30th birthday is on Jan. 9 – has requested that any birthday gifts be made in the form of donations to one of four charities, which she selected from a list of hundreds, according to ABC. She will also make a gift of her own in coming months, volunteering with Britain's Scout Association.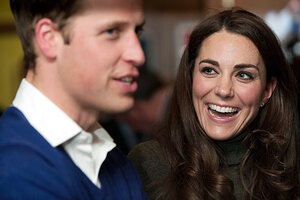 Ben Stansall/Reuters
1.

Action on Addiction

According to its website, Action on Addition is the only addiction charity in the United Kingdom that works on not just one facet of addiction, but several: research, prevention, treatment, professional workforce development, and family support. The charity has treatment centers throughout England.

ABC reports that Middleton "sees addiction as the source of a number of the social issues she is concerned with."

In a press release, the organization's chief executive, Nick Barton, said "It is a great honour for the Charity that Her Royal Highness has chosen to become our patron. We are very grateful to the Duchess whose support will enable us to keep the issue of addiction in the spotlight. Addiction is a consuming condition that results in a great deal of harm to individuals, families, communities, and society as a whole. Yet, it is not always well understood or responded to effectively. We are thrilled that the Duchess will be supporting us in our mission to free people from addiction and its effects."