Costa Concordia: Top 4 'deceptions' by ship's captain
From the moment that Capt. Francesco Schettino made his fateful decision to steer the Costa Concordia cruise ship close to shore to salute the family of the ship's head waiter on Giglio island, to his description of whether he stayed with the ship to help evacuate its 4,000 passengers, there has been a pattern of untruths and attempted coverup.
Here are four examples, running the gamut from 'technical' to incredulous, and one certainty: At least 11 people have died.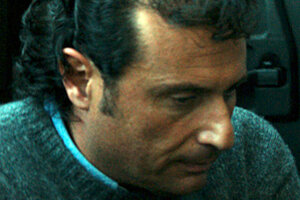 Alessandro La Rocca/Lapresse/AP
Schettino said on Italian TV that the boat collided with 'unmarked' rocks

The captain said the ship was "sailing along the coast with a tourist navigation system" and that an unmarked "lateral rock projection" appeared out of nowhere. "I firmly believe that the rocks were not detected […] on the nautical chart it was marked as just water at some 100-150 meters [328 to 492 feet] from the rocks and we were about 300 meters [984 feet] from the shore."

Yet local fisherman and others were amazed at the claim. They say the dangerous rocks are well known and clearly marked. Corriere della Sera reported divers confirming the spot where the ship tore a 160 foot gash in the port-side hull as 310 feet away from a larger visible rock formation that rises out from the water.

In the past, the cruise ships have had permission to sail within 1,500 feet of Giglio island, often to salute the inhabitants with a whistle of the ship. However, on Monday, Costa Crociere chairman and CEO Pier Luigi Foschi told a news conference that Schettino had steered the boat too close to the rocky shore and said that his company's ships were fitted with alarms that sound when they deviate from the programmed route. "I can't deny there was human error," Mr. Foschi said. "We're talking about an initiative that Commander Schettino took according to his own will and contrary to our rules of conduct."