Greek bailout: 5 key conditions set by EU
European Union leaders agreed to a €130 billion ($172 billion) bailout deal for Greece early this morning after a long night of negotiations among international lenders, European finance ministers, and Greek leaders. Little of the relief is likely to trickle down to Greek citizens, who face an unemployment rate topping 20 percent after five years of recession. By the time private investors have been compensated and Greek banks have been recapitalized, there will be little left to directly help the Greek economy, according to Reuters. Here are five key elements of the bailout deal.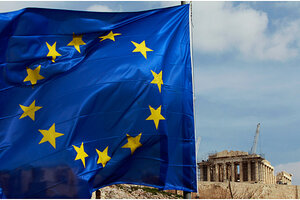 John Kolesidis/Reuters
A special debt account

Greece will have to pass a law in the next two months that requires the country to pay its debtors before paying for government services. In the interim, the bailout funds will be deposited into an escrow account separate from its main budget. That account must always have enough money in it to pay off debts as they come due in the next three months, the Associated Press reports.

This requirement means that Greece could end up "being forced to pay interest on its debt before compensating teachers, doctors, and other state employees" – some of whom are likely already not being fully paid, or paid at all.