France presidential elections: the candidates challenging Sarkozy
French President Nicolas Sarkozy is fighting for reelection in the April 22 presidential poll, with Socialist candidate Francois Hollande posing a strong challenge. If neither man secures 50 percent of the vote in round one – a percent no candidate has ever managed to attain– the top two candidates will go to a runoff on May 6.
With the country in a roughly 50-50 split between the center right, represented by Mr. Sarkozy, and the center left, represented by Mr. Hollande, the 10-candidate race is tight. The crucial second round involves what the French call the "utility vote": the choice voters make if their preferred candidate does not win one of the top two spots in round one.
The big question is where the supporters of the other candidates will go in the likely event that Sarkozy and Hollande continue on to round two. Here are the top 5 presidential candidates, with first round poll totals on March 30 in parentheses.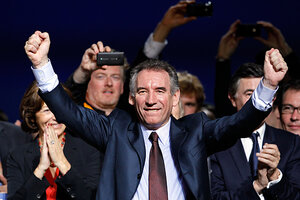 Christophe Ena/AP
5.

François Bayrou

Bayrou (11.5 percent) became a political sensation during the 2007 French elections as an intelligent "centrist," an alternative to Sarkozy on the center right and Segolene Royal on the center left. He presents himself as a modern-minded French traditionalist, deeply connected to the countryside and to French virtues, but emphasizing issues like internet freedom, privacy, and human rights.

His new, tiny Movement for Democracy party favors greater European integration and a kinder, gentler France that embraces all citizens. As a young man he took over the family farm when his father died, and overcame a stutter to teach Latin and Greek. He's a devout Catholic, quotes Gandhi, and says he is destined to one day be president.

In 2007 he scored 18.6 percent of the first-round vote. Bayrou has serious "euro crisis" credentials because he raised the issue of public debt many years ago and is a critic of wealth created by finance. He has promised to reduce France's deficit while retaining social services or protections through investing in "made in France" innovative technologies, among other things. In 2007 his supporters split their votes in the second round between Sarkozy and Socialist contender Ms. Royal. His supporters say that in this election, they will turn to the left in the second round.