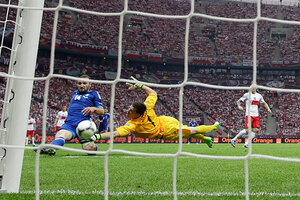 Matt Dunham/AP
2.

The underdogs: Could we see a repeat of Euro 2004?

Despite the tournament's many heavy hitters, don't discount the possibility of a Cinderella story. While the tournament's smaller size may mean a higher concentration of heavy hitters like Spain, it also means the road to the championship is much shorter. The tournament's minnows only need a hot streak – or a stingy defense – to have a shot at winning the whole thing, as a blue-collar Greek squad proved in 2004 in one of the greatest underdog stories ever in international soccer.

This year's tournament is not without its longshots, including Denmark, Ireland, and, once again, Greece. Both host nations, Ukraine and Poland, are also likely to be on the outside looking in. But all it takes is a solid round-robin showing followed by two wins to reach the final – a very doable task by international soccer standards.