Does Tory opposition to gay marriage signal a UK 'culture war'?
More than 100 Conservative MPs voted against the gay marriage bill backed by Prime Minister David Cameron, but support from Labour and Liberal Democrat MPs carried the vote.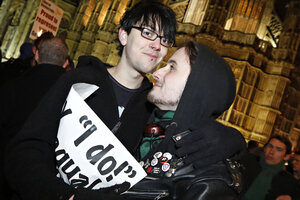 Luke MacGregor/Reuters
A parliamentary vote Tuesday took Britain a step closer to joining the 14 countries where gay marriage is legal, despite a major rebellion by members of Parliament (MPs) from the governing coalition's Conservative Party.
More than 100 Conservative MPs voted against a bill to legalize gay marriage in England and Wales, a key plank of attempts by Prime Minister David Cameron to broaden the voter appeal of the party he leads. A small number of MPs from other parties were among the opponents as well, although the bill was guaranteed to go through to a second legislative phase thanks to overwhelming support from Labour and the Tories' ruling partners, the Liberal Democrats.
Although the legislation includes provisions intended to ensure that religious organizations are not forced to conduct same sex marriages, the Church of England and the Catholic Church have been vocal in opposing the plans, amid fears that those clauses could be overturned in a hypothetical future appeal to the European Court of Human Rights.
However, while the controversy comes in the wake of the reappearance of abortion as a political issue and subject of enhanced media attention in Britain – prompting comparisons with America's own turbulent "culture wars" – observers stress the differences in the way the debate has unfolded here, where it has been less heated and, perhaps, characteristically understated.
"Looking from the outside at the US debate, there seems to be more of a willingness on the part of opponents of gay marriage to recourse to faith-based language, presenting it as an affront to God or certain faith positions, whereas here the argument is different," says Andy Walton, the co-author of a report last week for the theology think tank Theos. Mr. Walton's report argued that a US-style religious right was not emerging in the UK, but rather that a socially conservative bloc of Christians, unaffiliated with any particular party, may be seeking to wield influence.
"While it's difficult to separate the motivations of many in a vote like this, political opposition to the legislation from Conservatives here has revolved around arguments such as that it has been badly drafted, provides inadequate legal provisions for the major churches, or simply wasn't in the manifesto," says Walton, speaking in a personal capacity.
Still, he adds, "There are others who believe that this changes the very concept of what marriage is, not to mention the realpolitik of backbenchers wanting to inflict a defeat on a leadership they are unhappy with."
A conflicted Conservative party
Transatlantic contrasts aside, while tens of thousands took to the streets of Paris last month in protest to the French government's plan to legalize same-sex marriage, no such dramatic outpouring of public opposition has been sparked in Britain.
Polls meanwhile show consistent, if varying, majorities of Britons support same-sex marriage. As for its impact on support for the Conservative Party, some pollsters and the party's own supporters of the measure claim that this would be minor.
Indeed, some polling provides an indication of why Cameron has been so attached to the cause of legalizing gay marriage. When the polling company YouGov asked members the public which party was most likely to "appeal to one section of society rather than the whole country," half said the Conservatives while only 20 percent said Labour.
When in opposition, Cameron had sought to make a virtue of support for environmentalism as part of his party's rebranding, which included replacing its blue and red torch with a blue and green oak tree.
While the pursuit of green credentials was sacrificed at the altar of the pursuit of economic growth in recent years, a commitment to gay rights was the key element of the modernization project which survived.
Nevertheless, some Conservative activists argue instead that if the plans become law, the party could suffer major damage in the run-up to the 2015 election by alienating core supporters before the vote.
Another factor has been the rise of the United Kingdom Independence Party (UKIP), whose siren calls to many Tory voters may only temporarily have been neutralized by Cameron's recent pledge to hold a referendum on Britain's membership of the European Union.
Sensing another opportunity to exploit discontentment with Cameron's leadership in the Conservative heartland of the English shires, UKIP's representatives have been emphasizing their hostility to gay marriage.
Passionate debate
While MPs debated the bill ahead of the vote Tuesday evening, Cameron was absent, hosting a visit to the UK by US Vice President Joe Biden.
However, there was passionate support for the prime minister and the bill from the Conservative Party's first openly lesbian MP, Margot James. Ms. James said that "modernizing" the party was essential for its very survival and likened the consequences of not supporting gay marriage to perceived alienation of US Republicans from the center ground.
"I believe my party should never flinch from the requirement that we must continue this progression," added James. "Otherwise we may end up like the Republican Party, who lost an election last year that they could have won were it not for their socially conservative agenda."
But another Tory MP, Edward Leigh, summed up the unhappiness of many of the party's more socially conservative elements, saying: "We should be in the business of protecting cherished institutions and our cultural heritage. Otherwise, what, I ask, is a Conservative Party for?"
Mr. Leigh, a former minister who heads the Cornerstone Group, a faction of 40 socially conservative Tory MPs added, "Indeed we are alienating people who have voted for us for all their lives, leaving them with no one to vote for."