Ukraine protesters clash with government forces amid fires and rubber bullets
After a day of chaos and violence, at least eighteen people are dead, dozens injured, and a compromise with the government is nowhere in sight.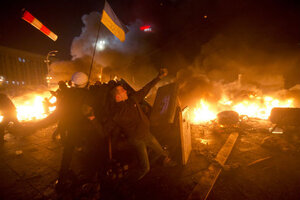 Efrem Lukatsky / AP
Central Kiev turned into a battle zone Tuesday as violent clashes between antigovernment protestors and riot police left at least 18 dead and dozens of people injured, in the deadliest bout of violence to roil the post-Soviet republic since its independence in 1991. 
Riot police attempted to disperse the main antigovernment protest camps on Kiev's central Independence Square, or Maidan, by throwing stun grenades, aiming water cannons on the crowds, and firing what appeared to be rubber bullets at demonstrators. Several protester tents caught fire during the conflict. 
Amidst the chaos, groups of protesters could be heard singing the national anthem as others attempted to smoke out riot police by setting fire to piles of tires. Medical volunteers rushed to help injured protesters. The government suspended the city's metro and prevented motorists from entering the city. 
Opposition leaders urged women and children to leave before the assault began, but they pleaded with all Ukrainian men to come "defend Maidan." About 20,000 had gathered on the square by early evening. By that time, many of them had already participated in several hours of clashes beyond the barricades surrounding the square and near the Ukrainian parliament building, in clashes that left city streets stained with puddles of blood and dotted with smoldering fires. Torn bits of clothing, pools of gasoline (which protesters use for Molotov cocktails), and gas masks littered the streets.
"We asked and pleaded for help from Europe, from the United States, and now look at this. They are beating peaceful people," says Tatiana Slusser, an elderly protester who stood in tears draped in a yellow-and-blue Ukrainian flag on Institutskaya street, the scene of some of today's most intense violence. Several wounded and at least one dead body lay on the sidewalk across the street from Slusser. "I would have rather died here today than have to see this happen to our Ukraine," she says.
The lead-up to the violence
Tuesday's events began just after 10 a.m., as thousands of demonstrators gathered near the parliament demanding constitutional reforms. Riot police cordoned off the area and blocked streets leading to the parliament building. Unable to access the street near the building, protesters began chanting, "Bandits, get out!" and "Shame!"
The first clashes seemed to start just off Institutskaya Street, which leads south from Maidan, the epicenter of the protest movement. According to some accounts, a group of protesters began hurling stones and rocks at riot police standing several rows thick behind two large trucks blocking their way.
Protesters then set fire to the trucks and hurled bricks, broken out of the sidewalk, at police troops, who responded by tossing stun grenades and tear gas into the crowd. At one point, police officers in protective gear appeared on the roof of a nearby apartment building. From there, they tossed more smoke bombs and fired rubber bullets at demonstrators below. 
"Fascists!" the crowd shouted up at them.
"You're shooting at your own!" several older women screamed. The scene grew more violent when police lines moved past the smoldering trucks, closing in on the crowd from two opposite sides.
The fires burn
Meanwhile, small legions of protesters — who call themselves "self-defense" troops — marched toward areas blocked off by riot police wearing ski masks and carrying homemade shields, sticks, and baseball bats. Older demonstrators wearing yellow and blue ribbons (the colors of Ukraine's flag) mixed in with younger, bat-wielding "defense" fighters as they chanted anti-government slogans and sang the national anthem. While each "brigade" seemed to have a commander, it was difficult to tell if they were acting in coordination with other groups.
Local media reported that anti-government groups attempted to break into the headquarters of the ruling Party of the Regions and other buildings in the area. Loud explosions from police stun grenades echoed across the city.
Protesters have continued to call for the resignation of the embattled president, Viktor Yanukovych, since demonstrations were sparked in November by his decision to scuttle a trade and integration agreement with the European Union. Mr. Yanukovych instead accepted a $15 billion loan deal from Russia, which enraged protesters seeking to distance Ukraine from Russian President Vladimir Putin's influence.
Protesters and opposition leaders accuse Yanukovych of corruption and establishing a dictatorship. Opposition leaders have said they would push for parliamentary reform in today's legislative session. The reforms would create a parliamentary republic, which would strip the president of many of his powers and redistribute them to the parliament. The ruling Party of Regions deputies blocked the opposition parties' efforts.
Vitali Klitschko, one of three major leaders at the movement's helm, urged Yanukovych to calm the violence in the streets by signing onto the reforms and removing the special forces (known as "Berkut") off the streets.
Pent-up frustration on both sides
Today's violence comes after many protesters have expressed frustration with so few results coming from three months of camping in the cold. On Monday, both sides expressed some optimism for a peaceful resolution after protesters vacated the Kiev City Hall as part of an amnesty deal singed by the parliament in January. Ukraine's prosecutor said the protesters met their end of the bargain.
But on Tuesday, as the confirmed number of the dead and wounded climbed, the government issued an ultimatum to the protesters: Leave the Maidan by 6 p.m., or the government will be forced to take action "by all means envisioned by the law."
"They just lost patience with Maidan," said a young demonstrator, Oleksandr Kosteriy, when asked why the clashes erupted so violently. "Ukrainians are sick of the way our government works, but you see what they do? What can we do to change things?"
Late Tuesday night, opposition leader Arseniy Yatsenyuk asked Yanukovych to stop the crackdown on Maidan and called for a truce until morning.
"Do not let Ukraine become a state covered in blood," Interfax Ukraine quoted him as saying. "We are urging you to call off the police and announce an immediate ceasefire. Then we are ready for further negotiations to save the people."