Javascript is disabled. Quiz scoring requires Javascript.
What do you know about D-Day? Take our quiz
This June, the United States and its World War II allies celebrate the 70th anniversary of D-Day. The Allies stormed the beaches of Normandy on June 6, 1944, beginning a massive amphibious attack that broke through the Nazis' "Atlantic Wall" along France's northern coast. Test your knowledge of that day by taking this 25-question quiz.
Sources: "D-Day: The Invasion of Normandy, 1944" by Rick Atkinson, "Remember D-Day: The Plan, the Invasion, Survivor Stories" by Ronald J. Drez, and "Eyewitness to World War II: Unforgettable Stories and Photographs from History's Greatest Conflict" by Neil Kagan and Stephen G. Hyslop.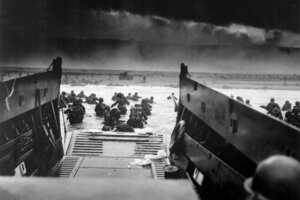 US Coast Guard/REUTERS
1.

Which country joined with the United States and Britain in providing the majority of the troops on D-Day?