Why latest US spying allegations in Germany could force Merkel to act
Germans blame Merkel for being soft on the US. If she doesn't take a tougher stance in response to the spy charges, she may face a backlash from an increasingly anti-American public.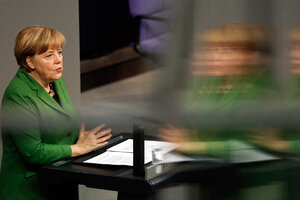 Markus Schreiber/AP/File
The latest allegations of US spying on Germany come amid growing anti-Americanism there – and they're fueling calls for Chancellor Angela Merkel to take a tougher stance against her North American ally.
Ms. Merkel has worked tirelessly to ease tensions with the United States since Edward Snowden, the former National Security Agency contractor, revealed that Americans snooped on her cellphone and established a listening post atop the US embassy in Berlin. Merkel has been blamed at home for being soft on the US; though she has tried to get a "no spy" deal with the US, she has failed.
"What affects her is [criticism] that she is not standing up to [the US]," says Ulrike Guerot, a European political analyst in Berlin. "She is not calling Obama straight and calling for a public apology."
The allegations, first reported in the German media last week and to which Merkel responded Monday, involve claims that a German man working for the country's intelligence agency sold secret documents to a foreign power, allegedly the US. The US ambassador to Germany was summoned to clarify the case, but the US has so far declined to respond to the specific allegations.
Merkel remained quiet over the weekend, but during a visit to China Monday she expressed anger, saying: "If the allegations are true, it would be for me a clear contradiction as to what I consider to be trusting cooperation between agencies and partners."
Other German figures have been blunter in their criticism, although all have hedged their statements as the details of this case remain murky. Germany's President Joachim Gauck said on television over the weekend that if the arrested man turned out to be a spy for the Americans, Germany must "say enough is enough, for once."
Gero Neugebauer, a political scientist at Berlin's Free University, says he believes Merkel spoke out Monday because she has to prove to a wary public that she can stand up for Germany. He says that, according to her modus operandi, she'd prefer to wait for the facts of the case to become clear and talk through a solution with the US "over coffee."
"For the past 10 years, she's been waiting, waiting, waiting, and now she is forced to act, and she doesn't like it," Mr. Neugebauer says.
The most to lose?
Reuters reports that an unnamed US official said the CIA played a role in the spying operation. White House spokesman Josh Earnest on Monday underscored how important the bilateral relationship is, "including the solid cooperation and partnership that we have when it comes to our nation's national security and our intelligence network.
"We are committed to making sure that we resolve this issue with the Germans appropriately," Mr. Earnest said.
The US arguably has the most to lose. According to a survey carried out this month by German pollster Infratest Dimap, 70 percent of Germans characterize the US as power-hungry. Majorities also describe the country as arrogant and reckless. Only 27 percent say it can be trusted.
"I'm not sure the US has understood how disappointed its closest allies in Europe are," says Josef Braml, a transatlantic expert at German Council on Foreign Relations in Berlin. "This is not a self-confident superpower. This is a country that lives in agony.… For the German-American relationship, it's difficult to look up to the US."
This anger and disillusionment in Germany dates back to the unpopular US invasion of Iraq, the fallout from the global financial crisis, and disappointment in President Obama – not to mention the 25 years that have passed since the Berlin Wall fell. But the NSA scandal was the tipping point. Today, palpable German anger has an impact on the transatlantic agenda, says Ms. Guerot, including a free trade deal called the TTIP and the crisis in Ukraine.
Although the German government backs the TTIP for economic considerations, the NSA scandal adds to the ambivalence that the German public already feels about it. An Infratest Dimap poll from June showed that 55 percent of Germans fear that the TTIP will be disadvantageous for their country.
"If you look at NSA, or TTIP, and Ukraine; what we believed the West to be is gone. It is basically an empty shell," says Guerot.