Sweden's 'cuddly capitalism' hits a bump? Three takeaways from election
Despite living in one of Europe's most envied societies, Swedes showed concern over growing inequality, falling education benchmarks, and increasing immigration.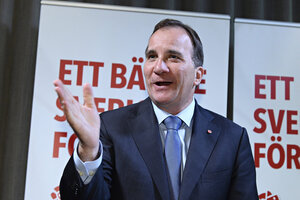 Claudio Bresciani/TT News Agency/Reuters
A surge in the far right, the ruling party ousted, a hung parliament. Sweden's weekend elections proved an upset for one of Europe's most robust – and envied – societies. 
The center-right coalition of Prime Minister Fredrik Reinfeldt lost to the left-leaning Social Democratic bloc, by 39 percent to 44 percent. But amid a surge by the anti-immigration Sweden Democrats, the bloc failed to secure an overall majority, injecting a rare dose of uncertainty into Swedish politics.
Here are three reasons why. 
Worries over welfare
The Economist called the Nordic countries the "next supermodel" in February 2013 for their ability to adapt the classic welfare state to current economic realities. In Sweden, Mr. Reinfeldt deftly steered the biggest of the Nordic nations through the worst of the financial crisis. But privatization and tax-cutting over his eight years in office went too far for some Swedes, who worry about a growing gap between rich and poor.
To be sure, Sweden remains one of the world's most egalitarian societies, with enviable gender equality and a functional democracy, as well as a state that protects as it prioritizes entrepreneurship, as The Christian Science Monitor outlined in an in-depth profile on Nordic countries in May.
But the left was able to tap into popular fears over the implications of following Reinfeldt's reform path. As Stefan Löfven, the Social Democrat poised to become Sweden's next premier, put it before the race: "There are cracks in the welfare in such a way that people no longer feel safe."
Falling education
Sweden is used to coming out on top when international rankings are released. In 2006 the country ranked above average for reading and math in the PISAs, which measure teenage competence in key subjects. Six years later it fell well below the OECD average for both, according to data released last December. 
This drop, along with youth unemployment, weighed heavily on voters' mind, especially among the young, says Toivo Sjörén, from the polling firm Sifo. Swedish youth unemployment of 22.1 percent, roughly the EU average, compares poorly with Germany (7.8 percent) and Norway (7.9 percent). 
There is no single reason for Sweden's fall. Teacher salaries have gone down and with it the quality of teaching, which the government has sought to remedy through reforms that include better training. Sweden has also pioneered the use of school vouchers for private schools, which some criticize as inequitable. The country remains a role model, especially in terms of access – the system is affordable at preschool and free through university. 
Immigration woes
A recent survey by the German Marshall Fund of the US found that Sweden was the only country in Europe that showed a clear majority (60 percent) in favor of their government's immigration policies. Yet the country's anti-immigration Sweden Democrats is gaining ground: Its 13 percent tally, double its last electoral showing, is one reason why the leftist bloc has no overall majority.
Sweden has one of the most generous policies for refugees in the world. And while most in Sweden support the global role the country plays, there is growing discontent. The Sweden Democrats made inroads after street riots last year in Husby, a northern suburb of Stockholm, when mostly immigrant youths torched cars and pelted police officers. Still, until now, the party, which advocates a near-total curb in immigration, has been marginalized by the mainstream. After Sunday's election, it may be able to shape the agenda.
"We are absolutely kingmakers now," Jimmie Akesson, leader of the Sweden Democrats, told reporters.