Cameron plans to bar British jihadis from coming home. Is that legal?
Prime Minister Cameron announced a raft of new laws meant to prevent British citizens returning from Syria and Iraq from radicalizing. But observers say the plan is likely to run afoul of preexisting human rights laws.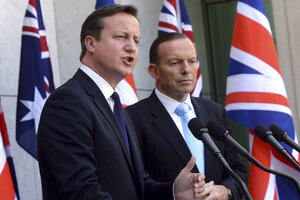 Pool/Reuters
Suspected jihadis who travel to Syria or Iraq to fight for the self-declared Islamic State could be banned from Britain under a new policy outlined by Prime Minister David Cameron Friday.
The plan gives the government power to block suspected fighters, including teenagers, from returning to Britain for two years unless they comply with strict measures. It fulfills Mr. Cameron's promise to Parliament in September to introduce new antiterror laws, a response to the potential threat of IS-trained militants carrying out attacks in Britain.
Cameron announced the plans in a speech to the Australian Parliament before traveling to the Group of 20 summit in Brisbane. He said Britain had to take action to deal with the threat posed by "foreign fighters planning attacks against our people," Agence France-Presse reports. 
Under temporary exclusion orders, suspected terrorists will have their passports canceled and be put on a no-fly list to prevent them from returning to Britain. The policy will allow them to reenter the country only if they consent to face prosecution, home detention, regular police monitoring, or take a deradicalization course, The Guardian reports.
The orders, which will require the Home Secretary's approval, would be issued on the basis of "reasonable suspicion of involvement in terrorist activity," AFP reports.
The proposal forms part of Britain's counter-terrorism bill, which is due to be published before the end of the month. The prime minister's office said it hope the bill would be law by the end of January.  
The bill also gives police and some border officers the power to seize passports if they suspect someone is traveling abroad for terror-related activities. 
BBC political correspondent Robin Brant writes that the plan announced Friday is highly contentious. He mentions serious legal concerns about "whether it is workable given other established laws on citizenship, immigration, and human rights."
Government officials designed the plan to minimize claims that the exclusion orders will make British citizens stateless by barring them from entering their home country, The Guardian reports. The government hopes to avoid the issue by giving people the option of returning under tough conditions. But it appears likely to face challenges from human right advocates. As the Guardian explains:
Britain is signatory to two UN conventions on statelessness, and the former Conservative attorney general Dominic Grieve has previously said removing an individual's passport on even a temporary basis is likely to be a legal non-starter.

The planned rules open the possibility of a suspect who refuses to return to the UK to face trial being left marooned outside the UK for an extended period, an arrangement that is unlikely to be popular if they are trapped on the European mainland.
More than 500 British citizens have traveled to Iraq and Syria to fight with IS, The Telegraph reports, about half of whom are thought to have returned to Britain. More than 200 people have been arrested for terror-related threats in the country over the past year.
"As well as dealing with the consequences of this threat, we also have to address its root cause. And let's be frank," Cameron said in his speech on Friday, according to The Telegraph. "The root cause of the challenge we face is the extremist narrative. So we must confront this extremism in all its forms. We must ban extremist preachers from our countries. We must root out extremism from our schools, universities and prisons."