'Ruining of a republic'? Thousands protest Kosovo's US-backed leaders
Protesters say that EU-brokered talks between Kosovo and Serbia are undermining Kosovo's sovereignty and bolstering corrupt public officials.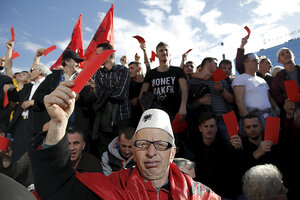 Marko Djurica/Reuters
As thousands of people gathered in an opposition-led protest in Kosovo's capital today to demand the government's resignation, the boisterous crowd was full of people like Faton Ademi. The young Kosovar graduated from university in 2011, but without connections to the government's ruling parties, he says he hasn't been able to find a full-time job since.
Meanwhile, he watches as those connected to the ruling parties drive expensive cars and live in luxurious homes. Every year the government promises that the situation in Kosovo will improve, he says, and that their engagement in a dialogue with Serbia will bring rewards – but they never materialize.
The government's controversial August deal with Serbia to create an association of Serb-majority municipalities in Kosovo was the last straw, pushing him and thousands of others to answer the opposition parties' calls for protests on the eighth anniversary of Kosovo's independence.
"We need a new government, with new people," Mr. Ademi says, as around him the crowd chanted "Down with the government!" and waved Albanian flags. "These same people have been in government since 2006, 2007. They keep saying the same words, but we don't see any change."
Opposition leaders gave the government until Feb. 27 to resign, threatening more protests if it does not. The demonstration, following on the heels of a large protest in January, is a signal of the dissatisfaction in Europe's youngest country, both with the current government and its participation in EU-led dialogue with Serbia aimed at normalizing relations between the former enemies. The political crisis calls into question the future of the dialogue, and the effectiveness of Western state-building efforts in the tiny country.
In a press conference after the protest, Kosovo's Prime Minister Isa Mustafa and Foreign Minister Hashim Thaçi said the government would continue its mandate, downplaying the size of the protest and declaring that the government had legitimacy because it won elections. A government spokesman did not respond to numerous requests for comment.
At loggerheads with Serbia
Serbia fought an independence movement in Kosovo in 1998 and 1999, which ended when NATO intervened with a 78-day bombing campaign that forced Serbia to withdraw. Kosovo declared independence in 2008, but it is not recognized by Serbia.
By participating in the Brussels-led talks, Serbia hopes to ease its path to membership in the EU. Kosovo hopes the dialogue will clear a path for acceptance in the United Nations and other international organizations, currently blocked by Serbia and its allies.
While Kosovo's leaders maintain they are making the hard choices necessary to move Kosovo forward, the opposition says the young country is making numerous concessions without seeing benefits – Serbia still doesn't recognize Kosovo and even successfully opposed Kosovo's application last year to UNESCO.
The crisis came to a head when Kosovo agreed with Serbia in August to form an association of Serb-majority municipalities in Kosovo, which will be able to receive funding from Serbia. Though intended to be part of an effort to integrate ethnic Serbs into Kosovo, critics say the association will create a state within the state, giving Belgrade a platform to interfere in Kosovo, entrenching ethnic divisions, and destabilizing the country.
Also criticized is a border demarcation deal with Montenegro that the opposition says cedes Kosovo's territory to its neighbor. Since the agreement, Kosovo's opposition parties have been disrupting parliament sessions with tear gas, pepper spray, and whistles.
Visar Ymeri, head of the largest opposition party Vetevendosje, says the protests are part of a "people's movement" against the government that it can no longer ignore. "This government is accelerating the ruining of the republic of Kosova [Albanian for "Kosovo"], it has accelerated the degradation of Kosova's economy, and it has accelerated the corruption and organized crime which is prevailing now in Kosova."
With the agreements with Serbia and Montenegro, he says, "We are becoming a country whose sovereignty is at risk, and at the same time whose territorial integrity is being questioned. … So basically we are in a process of state ruin, rather than state building. And this is directly linked to the policies of this government."
Frustration with the US
Mr. Ymeri says the dialogue with Serbia should be halted until Serbia recognizes Kosovo. He also criticizes the US support for Kosovo's leaders. US officials have publicly criticized the opposition's extreme protest methods in parliament, and last week the US ambassador to Kosovo, Greg Delawie, said that Kosovo "stands on the brink."
Most Kosovar Albanians are friendly toward the US because of NATO's efforts during the war, and a few US flags could be seen during the demonstration.
But protesters expressed frustration with the current US stance, which they see as supporting corrupt leaders and pushing the dialogue with Serbia while discouraging the discussion of concerns Kosovars have about where their country is headed.
Edona, a student from the northern town of Mitrovica, which is physically divided between Albanians and Serbs, declined to give her last name. With an Albanian flag wrapped around her shoulders, she said that it was up to Kosovars to choose their future.
"I think America helps us, but not now. We're trying to make Kosovo better, and they don't have to interrupt our efforts," she said. "America and Europe helped us before, but now I think we have to do it ourselves."