Why British spy chief is worried about Russian hackers
In the first newspaper interview with an incumbent head of MI5, Andrew Parker talked about his concerns about aggressive Russian foreign policy, Edward Snowden, and potential terrorist attacks against Britain.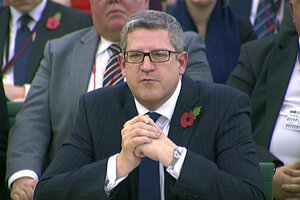 UK Parliament/Reuters
Andrew Parker is no stranger to secrets.
As the head of MI5, Britain's counter-intelligence and security agency, Mr. Parker has kept a low profile for much of his career. For decades after the agency was established, the names of its highest-ranking members were a tightly held state secret. But over the last several years, a push for openness by the British government has relaxed some of these restrictions.
The latest manifestation of openness for the agency was an interview between Parker and the British newspaper, The Guardian. The historic interaction was the first of its kind between a newspaper and an incumbent head of MI5. During the interview, Parker focused on the threat of Russian cyberattacks against Britain. The issue has drawn criticism from Russian officials, but for others, the interview highlighted worries about Russia's increasingly antagonistic attitude toward the West.
"Russia increasingly seems to define itself by opposition to the west and seems to act accordingly," Parker said in the interview. "You can see that on the ground with Russia's activities in Ukraine and Syria. But there is high-volume activity out of sight with the cyber-threat. Russia has been a covert threat for decades. What's different these days is that there are more and more methods available."
Concerns about Russian cyberattacks have generated multiple headlines over the past year, particularly in light of assumed Russian responsibility in the hacks of the Democratic National Committee email servers in an attempt to influence the outcome of the US presidential election. The international scale and potential consequences of the hacks have helped widen the rift of distrust between the two countries, in particular, evoking Cold War tensions between Russia and the Western world.
After the fall of the Soviet Union, Russia initially receded from its position as a global superpower. But in recent years, under President Vladimir Putin's leadership, the Russian Federation has increasingly tried to reassert itself as a power in the international community.
This reassertion has taken the form of various controversial international conflicts, including Russian annexation of Crimea and its dubious humanitarian record in war-torn Syria. These incidents, interpreted as aggressive and antagonistic acts on Russia's part, have prompted the European Union and other powers to impose sanctions against the country, as Christian Science Monitor correspondent Fred Weir explained:
Following Moscow's annexation of Crimea in March 2014, the US and EU started by targeting dozens of Russian and Ukrainian politicians, separatists, and businessmen known to be close to the Kremlin. The asset freezes, travel bans, and other measures were meant to push their recipients to appeal to Putin to alter course in Ukraine.

The sanctions were stiffened a few months later, as leading Russian state banks, arms companies, and energy corporations such as Rosneft and Gazprom were prohibited from raising long-term financing in the West, or from refinancing their existing loans. Russia was banned from importing any civilian items that might have military applications, and technology vital to the development of Russia's oil industry was blacklisted. Critics at the time worried that the West was pulling its punches, since Moscow's main source of revenue – exports of oil and gas – remained sanctions-exempt.
The economic impact of sanctions against Russia has been difficult to precisely determine, but they certainly didn't help when the price of oil dropped soon after, dropping the value of the ruble by half and initiating a recession in the country. By 2016, however, the recession seems to be ending, and Western sanctions seem to have served only to fan the flames of antagonism with Russia. Parker argues that since the annexation of Crimea, Russia has only become a greater threat to Britain and the West.
"It [Russia] is using its whole range of state organs and powers to push its foreign policy abroad in increasingly aggressive ways – involving propaganda, espionage, subversion and cyber-attacks," he told The Guardian. "Russia is at work across Europe and in the UK today. It is MI5's job to get in the way of that." 
Dmitry Peskov, a spokesman for the Kremlin, told reporters that Parker's accusations of aggression in Russian foreign policy "do not correspond to reality."
"Until someone produces proof, we will consider those statements unfounded and groundless," he said.
Russia has also denied involvement with the DNC hacks, though US investigators have linked Russian intelligence agencies FSB and GRU to the leaked emails.
In addition to worries about Russia, the MI5 chief also warned of the dangers of terrorist attacks by organizations such as the self-proclaimed Islamic State militant group in the Guardian interview. He emphasized that agencies like MI5 would catch "most" attempted terrorist attacks on British soil, but offered no guarantee that intelligence services could stop them all.
"Attacks in this country are higher than I have experienced in the rest of my career – and I've been working at MI5 for 33 years," he said, emphasizing that 12 attempted terrorist attacks had been thwarted in the past 3 years. "The reality is that because of the investment in services like mine, the UK has got good defenses. My expectation is that we will find and stop most attempts at terrorism in this country."
Parker also criticized Edward Snowden's 2013 leak, saying that it damaged the ability of intelligence agencies like MI5 to function. Mr. Snowden is currently living in Russia.