New Osama bin Laden audio tape threatens Europe
Al Qaeda leader's taped message cites insulting cartoons for severe threat to Europe.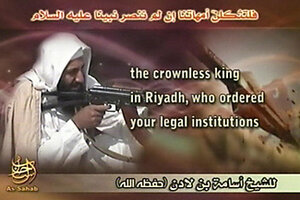 Al Sahab/AP TELEVISION NEWS
Osama bin Laden, in a new audio message posted Wednesday, condemned the publication of drawings that he said insulted the prophet Muhammad and warned Europeans of a "severe" reaction to come.
The message, which appeared on a militant website that has carried Al Qaeda statements in the past and bore the logo of the extremist group's media wing Al Sahab, showed a still image of bin Laden aiming with an assault rifle.
"The response will be what you see and not what you hear and let our mothers bereave us if we do not make victorious our messenger of God," said a voice believed to be bin Laden's, without specifying what action would be taken.
The five-minute message, bin Laden's first in 2008, made no mention of the fifth anniversary Wednesday of the US-led invasion in Iraq.
It came as the Muslim world marked Muhammad's birthday Thursday and amid the reigniting of a two-year-old controversy over some Danish cartoons deemed by Muslims to be insulting. Islamic law generally opposes any depiction of the prophet.
On Feb. 13, Danish newspapers republished a cartoon showing Muhammad wearing a bomb-shaped turban to show their commitment to freedom of speech after police said they had uncovered a plot to kill the artist.
Danish intelligence services said the reprinting of the cartoon had brought "negative attention" to Denmark and may have increased the risk to Danes at home and abroad.
The original 12 cartoons, first published in a Danish newspaper, triggered major protests in Muslim countries in 2006. There have been renewed protests in the past month.
Ben Venzke, the head of IntelCenter, a US group that monitors militant messages, called bin Laden's latest message a "clear threat against EU member countries and an indicator of a possible upcoming significant attack."
In the message, bin Laden described the cartoons as taking place in the framework of a new crusade against Islam, in which he said the pope has played a "large and lengthy role."
"You went overboard in your unbelief and freed yourselves of the etiquettes of dispute and fighting and went to the extent of publishing these insulting drawings," he said, according to a transcript released by the SITE Institute, another US group that monitors terror messages. "This is the greater and more serious tragedy, and reckoning for it will be more severe."
Adam Raisman, senior analyst at the SITE Institute, said that the message's release coincides with an increased buzz in online jihadi forums calling for revenge against Europe over the cartoons.
But Raisman noted that bin Laden's message did not specifically mention the republishing of the cartoons, only the publishing, and it did not give any other time landmarks. "The tape doesn't give any specific evidence that would allow us to determine when it was recorded," Raisman said.
Bin Laden said the cartoons were "part of a new crusade in which the pope of the Vatican had a significant role".
The reference was part of a familiar bin Laden strategy to paint Islam and Christian-rooted societies as being in a state of war.
"It's the logic of the crusade. The pope, in the imagination of the Islamists, may appear as the head of the crusade, which is clearly absurd but may have meaning for some Muslims and the Islamists. I do think it may indicate the Pope is a target," said Claude Moniquet, head of the European Strategic Intelligence and Security Center.
He said the pope's presence in Rome was one factor making Italy a target for Al Qaeda. Other European countries in its sights included Denmark and the Netherlands, where right-wing politician Geert Wilders is set to release a video on March 23 that is expected to condemn the Koran.
Official reaction in Europe was muted on Thursday. "We will continue our policy of not commenting on this kind of provocation," said Cristina Gallach, spokeswoman for European Union foreign policy chief Javier Solana.
"In the Netherlands it's taken seriously, but on the other hand it's nothing new," said Dutch security analyst Edwin Bakker. He said bin Laden was pouring oil on "fires that are already burning."
The Vatican rejected bin Laden's accusations as "totally unfounded." Analysts said the message would be studied by intelligence agencies but would not prompt governments to tighten security further. "In the main target countries, we're already at a very high level," Brussels-based Moniquet said.
• Material from Reuters was also used in this report.