11 countries speaking out against Koran burning in Florida
More than 10 countries have now condemned a Florida pastor's plan to burn the Koran in commemoration of the 9/11 terrorist attacks of nine years ago. As noted in the Monitor article Why the planned Koran burning causes outrage and alarm, "Muslims see it as the uninterrupted, unchangeable, and eternal word of God. Burning the Koran is akin to directly burning the word of God." Here is what leaders are saying worldwide.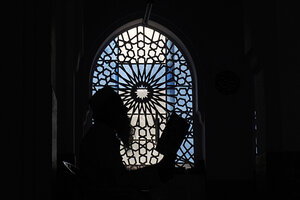 Krishnendu Halder/Reuters
1.

India

The Indian government on Thursday condemned the Florida church pastor's plan to burn the Koran, reported the Indian Express.

"We condemn the action of the pastor. It is totally unbecoming of anyone who claims to be a man of religion. We hope that the US authorities will take strong action to prevent such an outrage being committed," said Home Minister P. Chidambaram on Sept. 9.

"While we await the action of the US authorities, we would appeal to the media in India – both print and visual media – to refrain from telecasting visuals or publishing photographs of the deplorable act," Chidambaram said in a statement.

About 13.4 percent of the Indian population, or 155 million people, is Muslim, according to the CIA World Factbook.