World Toilet Day: Top 10 nations lacking toilets
See a lot of people squatting in the open today? Don't be offended. The so-called "big squat" was held worldwide to coincide with the 10th annual World Toilet Day, an initiative to bring awareness to the need for adequate sanitary facilities.
Every day, some 1.1 billion people go to the bathroom without any type of toilet, according to the World Health Organization. And even with a toilet, facilities are not necessarily sanitary. WaterAid America estimates that roughly 2.5 billion people – nearly 40 percent of the global population – do their business unsafely, often in public spaces.
World Toilet Day is organized by the Singapore-based World Toilet Organization, which has 235 member organizations in 58 countries "working toward eliminating the toilet taboo and delivering sustainable sanitation." Here's a list of the world's worst nations in terms of people lacking access to sanitary facilities.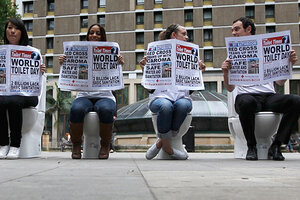 Tim Wimborne/Reuters
10.

Niger: 12 million

Four in 5 people in Niger go in the open, according to the World Health Organization (WHO). That's about 12 million people, or 79 percent of the 14.7 million population in the north-central African nation. It's a slight improvement from the 84 percent of the population who did their business in the open in 1990, according to the WHO's 2010 update on progress on improving sanitation.