Israel wildfire: How it stacks up with five other devastating blazes
Israeli officials are racing to contain wildfires that began in northern Israel on Thursday morning, prompting the evacuation of 17,000 and a rare request for international assistance. But while these fires are devastating for Israel – as of Friday they've killed at least 42 people and burned an estimated 8,600 acres in the tiny country – they are far smaller than other major forest fires around the globe.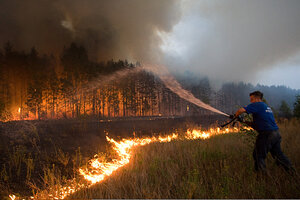 AP
1.

Russia

A drought and record high temperatures this past summer led to hundreds of fires that raged across Russia from July to early September, mostly in the western part of the country. In early August, about 700 fires were burning across more than 1.2 million acres of land. During the fires, Russia's average daily death toll nearly doubled to 700, according to The Wall Street Journal. There is no final number of how much land was damaged by the fires.