Quirky Christmas traditions around the world
Christmas cheer is widespread in the days leading up to Dec. 24 and 25, but it manifests itself in many different ways, from predicting the future to trying not to choke on a hidden coin. Below are just a few of the many unusual Christmas traditions around the world.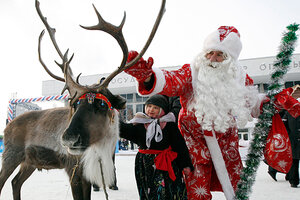 Ilya Naymushin/Reuters
Santa who?

In Russia and much of Eastern Europe, the arrival of someone named "Grandfather Frost" is what children are eagerly anticipating. Grandfather Frost, too, drives a sleigh drawn by reindeer, and is accompanied by a young helper named the "Snow Maiden," who is believed to be his granddaughter. Although, like Santa, he delivers gifts to all the good children, he uses the front door rather than the chimney to drop off gifts and eat the food that the children of the house leave for him.