Taliban tunnel: Five prison escapes in Iraq, Afghanistan
If Western audiences are inspired by the film "Shawshank Redemption" about a solo prison escape, then Taliban sympathizers must surely be heartened by today's spectacular escape of some 500 inmates from a Kandahar prison through a 1,180-foot-long tunnel. But while character Andy Dufresne had to dig out of Shawshank prison without any assistance, the Taliban prisoners are suspected of having help from guards.
This is not the first jail break that has set back the US wars in Afghanistan and Iraq, nor is it even the first escape from this specific prison. Here's a short list of recent prison breaks (and one near-escape) in Iraq and Afghanistan.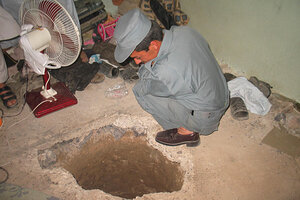 Allauddin Khan/AP
Taliban tunnel: 475 escapees

The Afghan government says 475 inmates escaped from Kandahar's central prison in the early hours of Monday morning through a 1,180-foot tunnel. While the Taliban said it had freed 541 inmates, what is clear is that all those who escaped were from the political section, which mostly housed people who had been arrested for involvement with the insurgency.

The Taliban was quick to pat itself on the back for the spectacular prison escape, releasing a statement that said only three prisoners had advance knowledge of the escape plan. Over the past five months, militants dug a passage from outside the prison, underneath a major highway and police checkpoints, and into the facility. Inmates began moving through the tunnel at 11:00 p.m. on Sunday night and finished at 3:30 a.m. on Monday morning.

"It is impossible for the Taliban to get 500 men out of prison without anyone's help," Ahmad Shah Khan Achakzai, a former member of parliament in Kandahar, told the Monitor. "I believe there are some people from the prison or the government who gave the Taliban support.… It's now clear to everyone how corrupt the government is."