Strauss-Kahn resignation: Who are his potential successors?
The International Monetary Fund's managing director has traditionally been a European male, often a Frenchman. But with Dominique Strauss-Kahn's resignation amid sexual assault charges, the job is available. A woman is among the leading candidates, and contenders from emerging markets may vie for the top spot. Here's a look at the possibilities.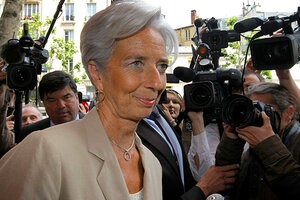 Jacques Brinon/AP
French Finance Minister Christine Lagarde

Four of the past 10 IMF heads have been Frenchmen, according to The Wall Street Journal. Now, a Frenchwoman may win the position. Christine Lagarde, one of the most prominent faces in the international finance community, is at the top of the list of potential candidates. If chosen, she would become the first woman to lead the organization.

Ms. Lagarde's competence in Europe is undisputed, The Christian Science Monitor reports. In 2009, the Financial Times ranked her as the best finance minister in the eurozone. However, she is the subject of a corruption investigation in France, where she has been finance minister since 2007. She lived in the US for 25 years and used to head a law firm in Chicago.