Mark Twain: Top 5 world travel quotes
Today is the 176th birthday of Mark Twain, or as his parents knew him, Samuel L. Clemens. Twain is best known for his American fiction, including "Tom Sawyer," but he was also an intrepid traveler and travel-writer who paved the way for the Bill Brysons of our day.
In "Innocents Abroad" he wrote, "Travel is fatal to prejudice, bigotry, and narrow-mindedness, and many of our people need it sorely on these accounts. Broad, wholesome, charitable views of men and things cannot be acquired by vegetating in one little corner of the earth all one's lifetime."
Here are five delightful travel quotes from Twain's writings: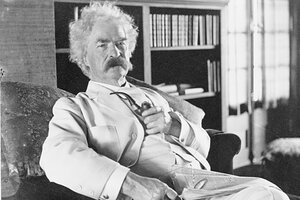 Courtesy of Library of Congress
1.

Marseilles, France: 'A really polite waiter who isn't an idiot'

We are getting foreignized rapidly and with facility. … We are getting used to tidy, noiseless waiters, who glide hither and thither, and hover about your back and your elbows like butterflies, quick to comprehend orders, quick to fill them; thankful for a gratuity without regard to the amount; and always polite – never otherwise than polite.

That is the strangest curiosity yet – a really polite hotel waiter who isn't an idiot. We are getting used to driving right into the central court of the hotel, in the midst of a fragrant circle of vines and flowers, and in the midst also of parties of gentlemen sitting quietly reading the paper and smoking. We are getting used to ice frozen by artificial process in ordinary bottles – the only kind of ice they have here.

We are getting used to all these things, but we are not getting used to carrying our own soap. We are sufficiently civilized to carry our own combs and toothbrushes, but this thing of having to ring for soap every time we wash is new to us and not pleasant at all. We think of it just after we get our heads and faces thoroughly wet or just when we think we have been in the bathtub long enough, and then, of course, an annoying delay follows.

– "Innocents Abroad"