How do key countries rank on corruption?
Every year, the group Transparency International releases its Corruption Perception Index, which measures the perception of corruption – misuse of public resources, bribery, and backdoor deals, to name a few – in countries worldwide. On a scale of 0 (most corrupt) to 10 (least corrupt), no country scores a 10 and more than two-thirds of the 183 countries on the index score below a 5. The US comes in at 7.1. The index is built using data from surveys examining enforcement of anticorruption laws, tracking of public funds, kickbacks in government contracts, etc.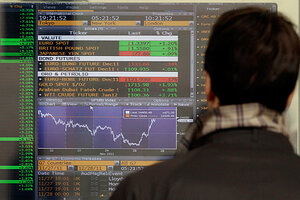 Luca Bruno/AP
The eurozone

As Transparency International noted, the eurozone countries suffering the worst debt crises are among the lowest-scoring EU countries on the corruption index. This is partly because of governments' "failure to tackle the bribery and tax evasion that are key drivers of the debt crisis."

Greece, which registers debt that tops 160 percent of GDP, scores a 3.4. Italy, where former leader Silvio Berlusconi remained a powerful political figure for decades despite accusations of corruption (including bribery and cooperating with the mafia), scored a 3.9.

At the other end of the spectrum, The Netherlands scored an 8.9 and Germany an 8.