Blasphemy riots: 6 examples around the world
Protests over a film mocking the prophet Muhammad erupted in Egypt and Libya on Sept. 11, 2012. Violence surrounding the Libyan unrest led to the deaths of four Americans, including US Ambassador Christopher Stevens.
Many Muslims consider any depiction of the prophet to be forbidden, and Islamic teachings call for handling the Quran with respect. Incidents of both intentional and unintentional disrespect have occasionally prompted protests and violence around the world. Here are six examples: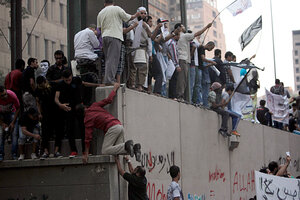 Nasser Nasser/AP
'Innocence of Muslims'

The most recent example is a US-made film called the "Innocence of Muslims," which reportedly spurred demonstrations in Egypt and Libya that ended with the deaths of the US Ambassador to Libya, J. Christopher Stevens, and three of his consular staff. In Cairo, protesters scaled the walls of the US embassy compound and replaced the US flag with an Islamist one, but no one was hurt.

The two-hour film paints the prophet Muhammad as a pedophile and fraud. The details of the amateurish film's provenance are still being sorted out, but it was reportedly made in America. A YouTube trailer of the film was dubbed into Arabic and portions were later picked up by Egyptian TV stations and discussed in the local media.