Eid 101: Five facts about Eid al-Fitr
Eid al-Fitr, marking the end of the holy month of Ramadan, is celebrated over three days. Here are five facts about the holiday.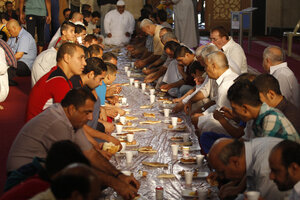 Thaier al-Sudani/REUTERS
1.

Breaking the fast

Eid al-Fitr literally means the Festival of Breaking the Fast, and it marks the end of a month-long fast. During the month of Ramadan, observant Muslims are expected to abstain from food and drink from dawn to dusk in order to purify their minds and bodies. On the day of Eid, however, it is forbidden to fast.

Traditional greetings during Eid are Eid Mubarak, which means "Blessed Eid," and Eid Said, meaning "Happy Eid."