Intrigue swirls around missing Russian ship
(Read article summary)
Has piracy really returned to Europe's waters after 100 years, or is something else afoot?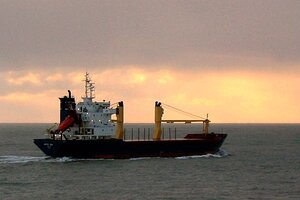 SOVFRACHT/Reuters
MOSCOW – The Arctic Sea, a Russian-operated ship missing in the Atlantic, might be the victim of one of the first true hijackings at sea in Europe since the Barbary pirates were defeated in the 19th century.
But analysts are skeptical that a Somalia-style attack on shipping is possible in modern Europe. Speculation in the Russian media has turned to alternative explanations: Nuclear-weapons smuggling? An intermafia dispute with the ship's crew as pawns? Old-fashioned insurance fraud? All have been posited.
One expert even hypothesizes that the mysterious disappearance of the Arctic Sea, which left Finland two weeks ago with 15 Russian seamen and a load of timber bound for Algeria, might be a bit of extreme political theater to convince Russia's parliament to give its president expanded military powers.
The ship, whose cargo is worth about $2 million, was supposed to have arrived in Algiers on Aug. 4, but hasn't been heard from since being spotted by a Portuguese maritime patrol plane near that country's coast around August 1.
The vessel appears to have vanished into thin air, a curious affair that has engaged the attention of Finnish police, Swedish investigators, Interpol, and the Russian Navy. The story is complicated by reports that the ship was possibly boarded in Swedish waters by a group of masked men who identified themselves as "Swedish antidrug police."
Boarding party
The captain of the Maltese-flagged Arctic Sea reported that the crew was tied up for 12 hours, but later released unharmed. The boarders, he said, sped away on rubber speed boats. Swedish authorities say they are perplexed by the incident, and are looking into it.
Viktor Matveyev, managing director of Solchart, the Helsinki-based company that operates the Arctic Sea, told the official Russian news agency RIA-Novosti that he had no idea where his ship is. "In this situation, anything's possible," he said. "Still, it's hard to believe that this [piracy] could happen in Swedish territorial waters."
Finnish police are reportedly looking into the possibility that the Arctic Sea was carrying more than timber when it departed Finland. Russian press reports have noted that the ship spent two weeks in the Russian Baltic port of Kaliningrad earlier in July, a place that is a notorious haven for smugglers.
Natalya Gracheva, a Russian journalist who specializes in maritime reporting, told the state-run Russia Today network that the disappearance probably involved a secret cargo. "It is definitely a criminal act performed for gain," she said. "It is most probably a continuation of the attack that took place in Sweden. It is possible that the offenders never left the ship. It's also impossible that the ship would sink – we would see piles of timber. And if there was an explosion, it would have been recorded. The ship is thought to be heading to Africa now, since it will be easier for the hijackers to sell the cargo in countries with weaker controls."
Political intrigue
But Russian security expert Pavel Felgenhauer, a columnist with the opposition weekly Novaya Gazeta, suggests the affair has a whiff of political intrigue about it. He points to the English-language news page of the Kremlin's own website for evidence.
On Monday, according to the website, President Dmitry Medvedev submitted a draft law to the State Duma that would entitle the Kremlin, for the first time, to deploy Russian military forces overseas at its discretion "to protect Russian citizens" and to "combat piracy." The very next day, Mr. Medvedev ordered Russian forces into action to "find, and if need be, free the ship Arctic Sea."
The Russian Navy has dispatched five warships from its Black Sea fleet, including two nuclear submarines and the guided-missile frigate Ladny, in what the Russian media describes as a major search operation.
"It's an extraordinary coincidence that Medvedev introduces new legislation that would give him expanded powers to fight piracy, and the next day this opportunity arises," says Mr. Felgenhauer. "It certainly comes in handy to illustrate the Kremlin's case," he says.