Nethanyhu's speech: a quick summary
(Read article summary)
At UN, Benjamin Netanyahu challenged Holocaust deniers, fundamentalist Islam, and war crimes charges in Gaza.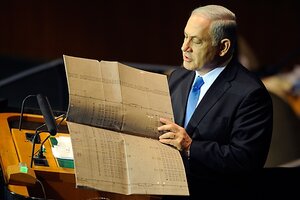 Henny Ray Abrams/AP
Israeli Prime Minister Benjamin Netanyahu chose to directly challenge Iranian President Mahmoud Ahmadinejad at the United Nations on Thursday.
Waving minutes of a Nazi meeting on Jewish extermination and blueprints of the Auschwitz concentration camp, he staunchly defended Israel's right to exist in peace. Invoking the courage of Winton Churchill, he sought to rouse to action the international body that had recognized that same right 62 years ago.
His three main points were – offered here as a summary, rather than an analysis:
1) The United Nations has a fundamental mission to prevent another disaster on the scale of the Holocaust. Nothing has undermined this mission more than the "systematic assault on the truth" and the UN must refuse to be a platform for such lies.
2) Iran is fueled by an "extreme fundamentalism" that is behind all modern Islamist terrorism and has pitted civilization against a dangerous barbarism. In contrast to Iran's backwardness, Israel is an innovative global leader in numerous areas, including science and technology, agriculture and water, and energy and the environment.
3) The UN Human Rights Council's recent condemnation of Israel's conduct during the Gaza war, described in the Goldstone report, is based on a dangerous moral equivalency that would have turned Churchill and Franklin D. Roosevelt into war criminals.
Establishing the facts of the Holocaust
Mr. Netanyahu lambasted President Ahmadinejad's bland denial of the Holocaust just a few days earlier and castigated those diplomats who stayed to listen to the Iranian leader speak at the UN Wednesday. Bolstering his argument with everything from historical documents in his hand to the very personal death of at least seven of his wife's immediate relatives, he warned his listeners that Ahmadinejad's anti-Semitic diatribes posed a threat far beyond Israel.
"What a disgrace! What a mockery of the charter of the United Nations! … History has shown us time and again that what starts with attacks on the Jews eventually ends up engulfing many others."
Civilization vs. barbarism
Apparently tracing all the strands of modern Islamist terrorism to the 1979 Iranian revolution, Netanyahu said that the "extreme fundamentalism" that fuels the Iranian regime did not pit Muslim against Jew but was rather an effort to "return humanity to medieval times."
"It pits civilization against barbarism, the 21st century against the 9th century, those who sanctify life against those who glorify death. … The primitivism of the 9th century ought to be no match for the progress of the 21st century."
He staked out Israel's role as a regional leader in innovation, as part of movement of nations marching toward progress, which offer a future of "unimagined promise." Together, he claimed, these nations will:
Crack the genetic code.
Cure the incurable.
Lengthen lives.
Find a cheap alternative to fossil fuels and clean up the planet.
(And, he said later, Israel would make peace with the Palestinians – if they'll accept Israel's right to exist as a Jewish state.)
But in order for humanity to make such progress, he warned, the marriage of religious fanaticism and weapons of mass destruction must be forestalled. He then spelled out the urgent challenge to prevent the "tyrants of Tehran" from acquiring nuclear weapons.
Moral equivalency
Lastly, Netanyahu vigorously defended Israel's record during the Gaza war, calling the Goldstone report a farce. He urged the UN to throw out the report, which he said placed Hamas and the government of Israel on equal moral footing – "falsely equating the terrorists with those they targeted."
"If this body does not reject this report, it would send a message to terrorists everywhere: Terror pays; if you launch your attacks from densely populated areas, you will win immunity."
Read more about the Goldstone report here, and the testimony of disillusioned soldiers here for a different view.
The last word
While many are sure to take issue with Netanyahu's strong words, they may at least agree with his parting comment – a quote inscribed in the walls outside the UN, drawn from the biblical vision of peace as described by the prophet Isaiah:
"Nation shall not lift up sword against nation. They shall learn war no more."
For a full transcript of Netanyahu's speech, click here.