Museum tells of Khmer Rouge persecution of Cambodian Muslims
(Read article summary)
Cambodian Muslims, primarily from the Cham ethnic group, were persecuted under the Khmer Rouge. Next year, a museum will open that tells their story.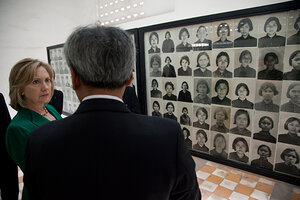 Evan Vucci/AP
The first museum dedicated to the Muslim victims of the Khmer Rouge regime is scheduled to open in a Cambodian mosque next year.
The museum in the Mabarak Mosque will introduce visitors to the stories of Muslim survivors of the Khmer Rouge, as well as to the language and culture of Cambodian Muslims, known as the Chams. The museum – which will be the country's first exhibition inside a mosque compound – will be housed in an Islamic school building that had served as a Khmer Rouge communal dining hall. During the 1970s, Chams were forcibly relocated away from their communities, persecuted, and killed.