An icon of the American road finds a home in South Africa
(Read article summary)
One South African man has built an eco-friendly trailer park in Western Cape with American Airstreams, paying homage to an icon of the American road.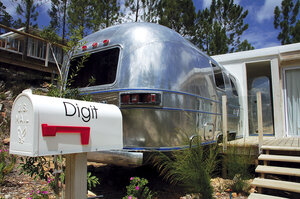 Ian Evans
• A local, slice-of-life story from a Monitor correspondent.
They are chiefly an iconic symbol of American life – silver, rounded touring trailers that first hit the roads in the 1930s. And yet 12 Airstream trailers glisten here among the vineyards and orchards of the rural Western Cape, an hour's drive from Cape Town.
Instead of the more traditional ecolodges, self-confessed Airstream obsessed Jody Aufrichtig has built an eco-friendly Airstream trailer park, each with a uniquely themed interior.
Situated at the end of a long gravel road near Elgin, each trailer is specially designed, giving tenants an unusual choice for lodging. There's "Give Bees A Chance," a play on John Lennon's "Give Peace a Chance," decorated in yellow and black with honeycomb and bee imprints. The "King Midas" suite offers luxury and all things gold, while "Digit" pays homage to figures and arithmetic.
Mr. Aufrichtig first became interested in Airstreams after watching the film "What's Eating Gilbert Grape," which featured an Airstream trailer.
"I thought they'd work here in South Africa and they have proved very popular," he says. "I love them and admit it's a bit of an obsession. They remind me of youth and a time when things were a little simpler."